Getting Started with Inventory as an Administrator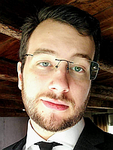 Updated by Mitchell Paul-Soumis
Inventory management is an important aspect of business which if done well can lead to a reduction in storage cost, idle time, and overall disruption to the operations of a business.
The Inventory module in Sonar enables users to have full control over their assets/equipment.
By utilizing the inventory module to track your assets, you will have access to the history of all the touchpoints associated with any particular item stored in the module. Essentially, you will have a complete genealogy (lifecycle) of each item.
To get started with managing your inventory within the Sonar platform, you will need to get familiar with the Inventory settings and adopt some best practices around inventory management.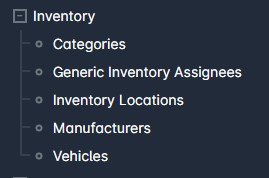 Assignees: Intention and Best Practices
Assignees
An Assignee in Sonar is an entity that may have inventory items assigned to it. An assignee can be a person, a place, a vehicle or a generic placeholder.
All items added into the Sonar inventory system must always be assigned to an assignee. As items are assigned and reassigned to different assignees, the history will be tracked on the item.
Valid specific assignees in Sonar are:
Locations - a physical structure that houses undeployed inventory. An example of a typical location would be a warehouse.
Vehicles - A work vehicle that holds inventory.
Generic Inventory Assignees- Contrary to specific Assignees, generic assignees need only be given a name prior to creation, and would be best used when the assignee does not fit in to one of the other specific Inventory Assignees - such as itemized buckets, contractors who don't have access to the instance as users, and non-addressed locations. The Generic Inventory Assignees is a catch-all assignee that can be used when the assignee does not fit into one of the other five options.
Users - this refers to any employee holding inventory in preparation for installation or maintenance work.
Accounts - this refers to equipment at a customer site/home.
Network Sites - inventory at an actual site such as a radio tower.
Best Practices
Below are some best practices around utilizing the various assignee types. These tips will help enable users to take advantage of the power behind the inventory control module.
A Custom assignee is a catch-all assignee that can be used when the assignee does not fit into one of the other five options.
An example of a custom assignee may be a contractor - if you don't have each contracted employee as a user within Sonar, you can create a custom assignee and move all of the equipment into this category.
If you have installers or service technicians that share work vehicles, then assigning inventory to a Vehicle is a better option than assigning it to a user, as the inventory in the vehicle probably does not change depending on who is driving it. If your field technicians have specific vehicles, you may be better off assigning the inventory directly to a User, but it is mostly a matter of preference.
When creating a vehicle, you must input a descriptive name for the vehicle. This could be something like Jeff's Ford F150 or an identification number you assign internally. You will also have the option to track specific details on the vehicle, such as the make, model, year, license plate and VIN. These fields are not required, and are for your reference only.
Inventory Lifecycle
A typical lifecycle for an item would be that it is initially added to Sonar and assigned to a warehouse. A technician then comes to the warehouse and picks up the item for installation, so a warehouse employee moves the item to the technician directly, or to his or her vehicle. The technician then installs the item at a customer location, so the item is reassigned to the customer's account. The customer later cancels, and the technician picks up the item, reassigning it to him or herself, or the vehicle they are driving. Finally, when the item is delivered back to the warehouse, it is reassigned to the warehouse by the warehouse employee that receives it. That item will now show a history of where it has been, and when.
Inventory Model Manufacturers
The Manufacturer section allows configuration of device manufacturers, further increasing the precision of categorization for hardware devices.
Similar to Inventory Model Categories, the Manufacturers category is freeform, however it should represent the hardware manufacturers for the equipment being used.
Inventory Model Categories
Inventory Model categories allow the broad categorization of devices into specific categories, creating the organization structure upon which further devices are added.
Inventory Model Categories can also be described as a broad "type" for the inventory. Which is to say the categories may be as simple as "Access Point" or as specific as "Mesh Access Point 802.11ax". Additionally, icons can be added for easy recognition of the category.
Using Inventory Model Categories
Inventory Model Categories are used to facilitate the organization of inventory being added to the instance. Categories are freeform fields, requiring only a name. Categories that can be created are:
Commercial Routers
Commercial Switches
In-home Wireless Routers
Generic items
Any device being added should have an associated category.
General Tips
Inventory items can be categorized based on the users business model and how their inventory is classified. In general, within the WISP industry, inventory can be categorized as:
Customer Premise Equipment (CPE)

Wireless Routers, CPE Radio, POE adapter etc.

Non-Customer Premise Equipment (Non-CPE)

Access Points, Backhauls etc.

Non-serialized items such as cable spools, nuts and bolts or widgets in general.