Inventory Creation: Models, Fields, and Deployment types
Inventory Creation: Models, Fields, and Deployment types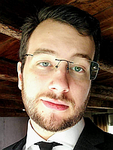 Updated by Mitchell Paul-Soumis
Creating Inventory Models
Go to Inventory in the left pane and click "Create"
Click "Add Model" and complete the form including the following details:

From the drop down menu, select and icon which best describes your hardware
Manufacturer - this is the company manufacturing your hardware (i.e. CISCO, Hewlett Packard, Ubiquiti etc.)
Category - the category refers to the type of hardware (i.e. routers, access points, backhauls etc.)
Model Name - this is the model name/number for the hardware
Display Name - use this field to to give your hardware a display name
Protocol - enter either http or https
Port - enter the common ports - 80 for http and 443 for https

Add a file or picture related to your hardware and click "Create"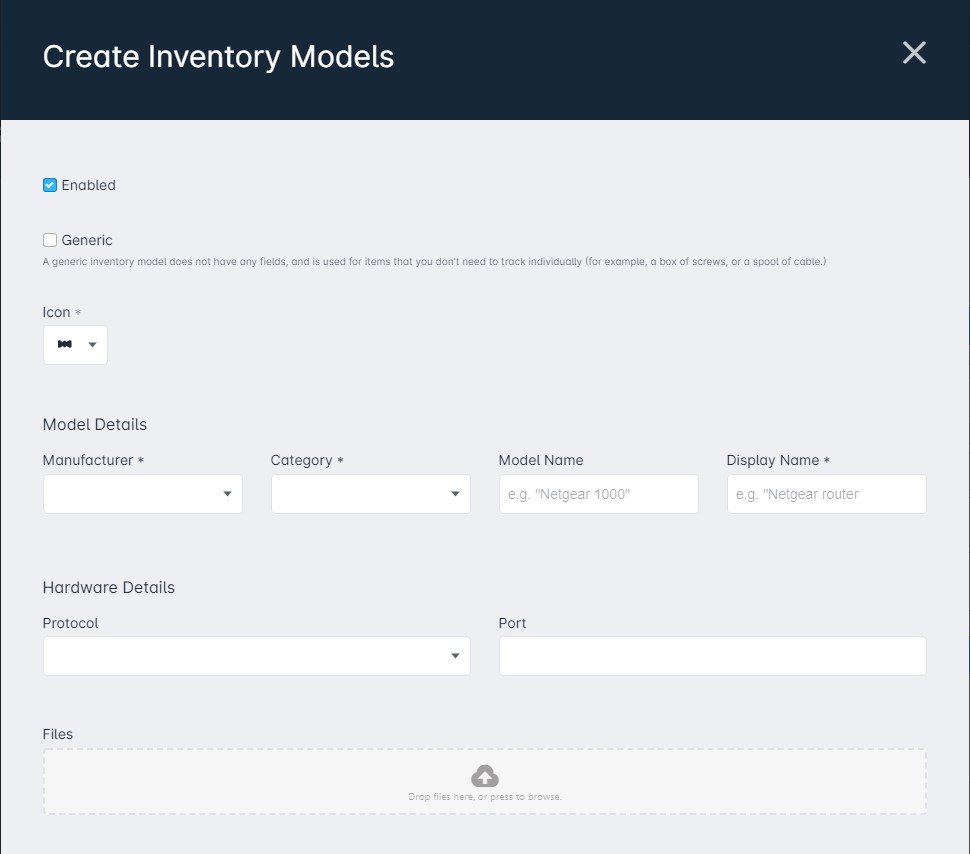 Scroll down and fill out the information related to Fields and Deployment Types
Adding Fields
Each piece of hardware comes with a different set of fields such as serial number, mac address or model number. In this section you can add a field according to how you will be importing your devices into Sonar.
Give your field a name (the most common field is MAC address)
Select a Text Type from the drop down menu (MAC address)
Place a check mark on Required or Primary or both
Click "Apply" once all necessary fields have been filled out
Click on "Add Row" to add more fields
Scroll down to start working with Deployment types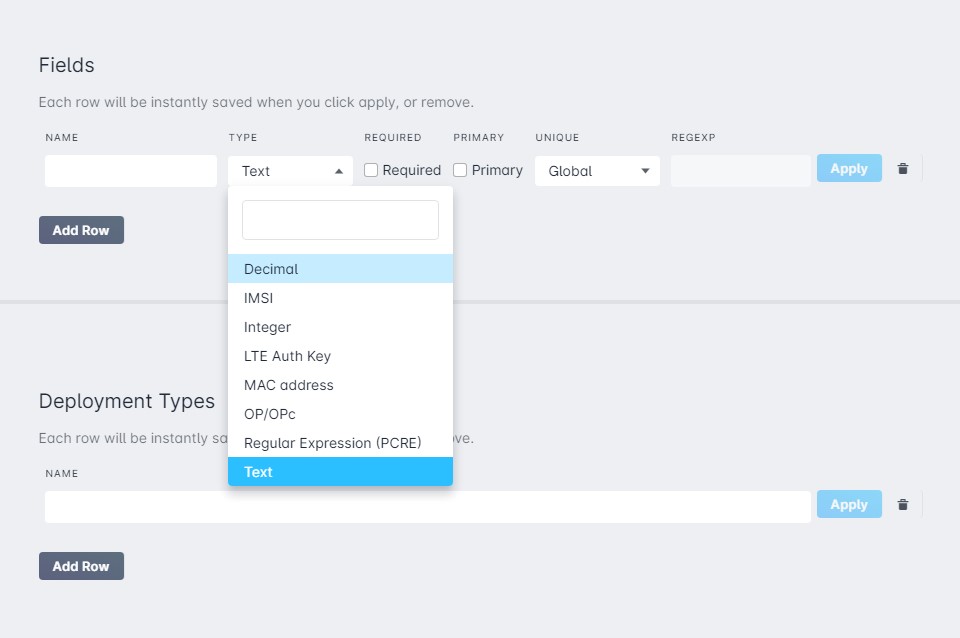 Adding Deployment Types
Throughout the hardware/product lifecycle, Sonar users (as with any inventory software) will deploy/repurpose hardware based on network modes, customer needs or supply chain shortages. For example, perhaps a device that was once being used as a customer CPE will be deployed as an access point for a small repeater site.
The Deployment Types feature enables users to have control of how and where equipment is deployed. By setting a different deployment type when an inventory item is assigned, different monitoring templates can be applied to the same device based on how it is currently deployed. Some examples of deployment types are: Routers, Access Points, Backhauls - in general, most category models can be deployment types. In the example below, a Router has been added as a deployment type.
Enter a name for your deployment type and click "Apply"
Click Add Row to continue adding more Deployment Types