FCC Broadband Data Collection (BDC) Filings: How Sonar Can Help
FCC Broadband Data Collection (BDC) Filings: How Sonar Can Help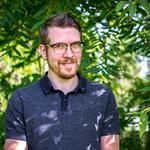 Updated by Rick Seemann
Read Time: 3 mins
Since 1999, US telecommunications providers have been beholden to the FCC's 'Form 477' reporting. Sonar has assisted with this by providing data exports tailored to these bi-annual filings. New for 2022, the FCC has introduced the Broadband Data Collection (BDC) Program. This new program was designed to replace the Form 477 program, which was officially sunsetted on December 8th, 2022.
We have revised the old 477 Data Export in order to align to the specifications defined for the BDC program. The below table lists each BDC Filing Section, and explains whether or not Sonar can provide this data, and if so, what the report is named so you can locate it in the export file generated by our system.
| | | | |
| --- | --- | --- | --- |
| BDC Filing Section | Can Sonar Generate Report? | Sonar Report File Name from FCC Data Export | Notes |
| Entity Identification | No | N/A | The Entity Information CSV file contains a list of information about the submitting company. Most of this information is not stored in Sonar, and once this file has been created, its details will rarely require updating. |
| Fixed Broadband Availability & Supporting Data | No | N/A | This report looks for a specifically detailed listing of all locations that are theoretically serviceable by the ISP, as well as the highest speeds offered at each location. Because Sonar only stores info pertaining to currently serviced locations, this is not something we can provide holistically. The Deployment_Data.csv data export we provide may prove helpful in starting to assemble info on your existing deployment areas, if you do not have this data available in another system. |
| Fixed Broadband Subscription | Yes | Subscription_Data.csv | We have updated the Technology Code options for selection on Data Service to include corresponding options for codes 61, 71 & 72. These new codes were introduced as part of the original BDC requirements. |
| Fixed Voice Subscription (Tract-level) | Yes | Voice_Data.csv | We have updated the Voice_Data.csv export to include the new "Lines" and "Seats" Voice Service Generic Parameters in its tallies. In cases where no lines and/or seats are present on the Account Voice Service, the quantity of the Account Voice Service itself will represent the number of voice channels sold. Otherwise, the number of Lines and/or Seats on an Account Voice Service will represent the number of voice channels sold. |
Please note that the above table only speaks to the BDC report filings required for "Facilities-based Providers of Fixed Broadband Service" and "Providers of Interconnected VoIP Service", as these provider types are what apply to the features and workflows that Sonar's software has been tailored to. The below table shows the other Provider Types that fall under BDC filing requirements, and the additional reports that are applicable to them. None of these additional reports can be generated via data exports from Sonar.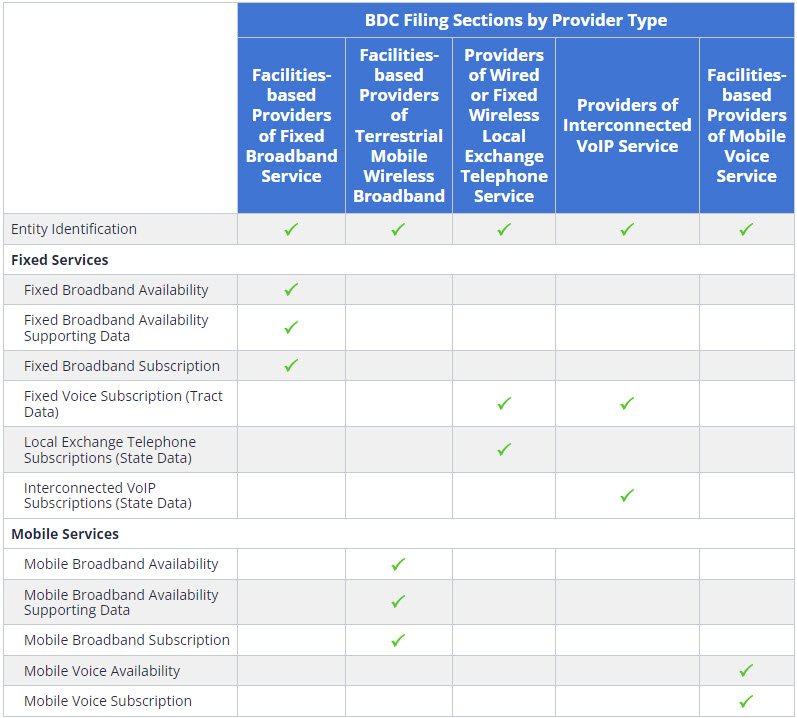 Reporting
Sonar provides a standard BDC Subscribers report, which is found by navigating to Reports > Accounts section > BDC Subscribers.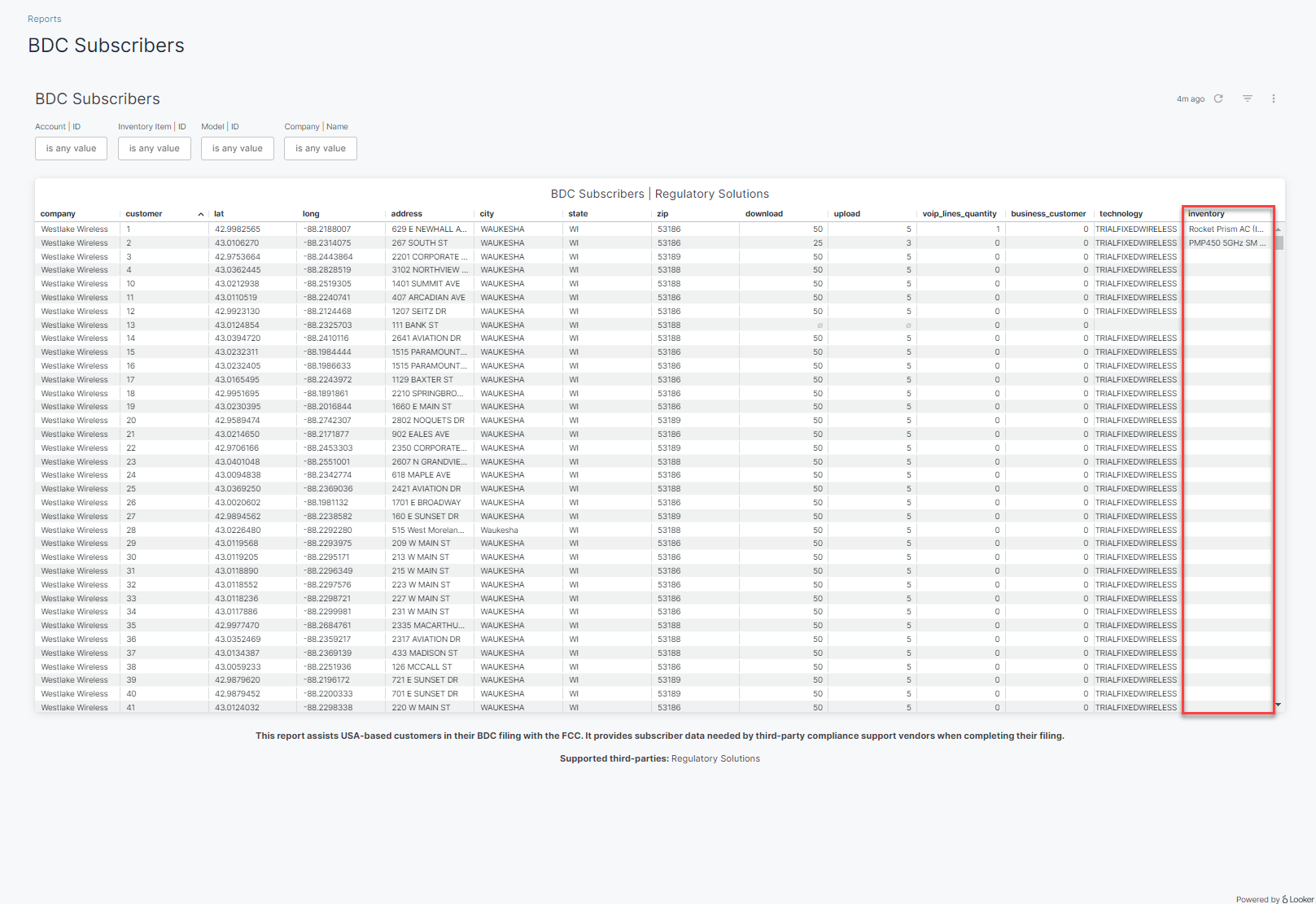 This report assists USA-based customers in their BDC filing with the FCC. It provides subscriber data required by third-party compliance support vendors when completing their filing. Before submission, you must replace the CPE column with the appropriate technology designation. This can be inferred from the CPE column.