Invoice Attachment Use Cases & PDF Examples
Invoice Attachment Use Cases & PDF Examples
Read Time: 4 mins
Invoice attachments are files that can be appended to all invoices that get sent out to customers. This functionality is designed to provide you with a quick and easy way to relay content efficiently to all customers. Whether it is to make your customers aware of a limited time promotion that is currently being offered, inform them of changes that will be happening to the business, or to provide them with the details of a new service that can now be purchased, invoice attachments are an excellent way to provide customers with useful information and assist with marketing objectives.
Whether the invoice is automatically generated and sent out as a result of billing running, or if the invoice is manually created and you use the "Email Invoice" function from within an account, any invoice attachment will be included and sent to the customer.
How To Add An Invoice Attachment
To create an invoice attachment, navigate to "Settings" and then under "Financial", click "Invoice Attachments". From the Invoice Attachments screen, click "Create".
Files that can be uploaded as an invoice attachment must not exceed 500 MB.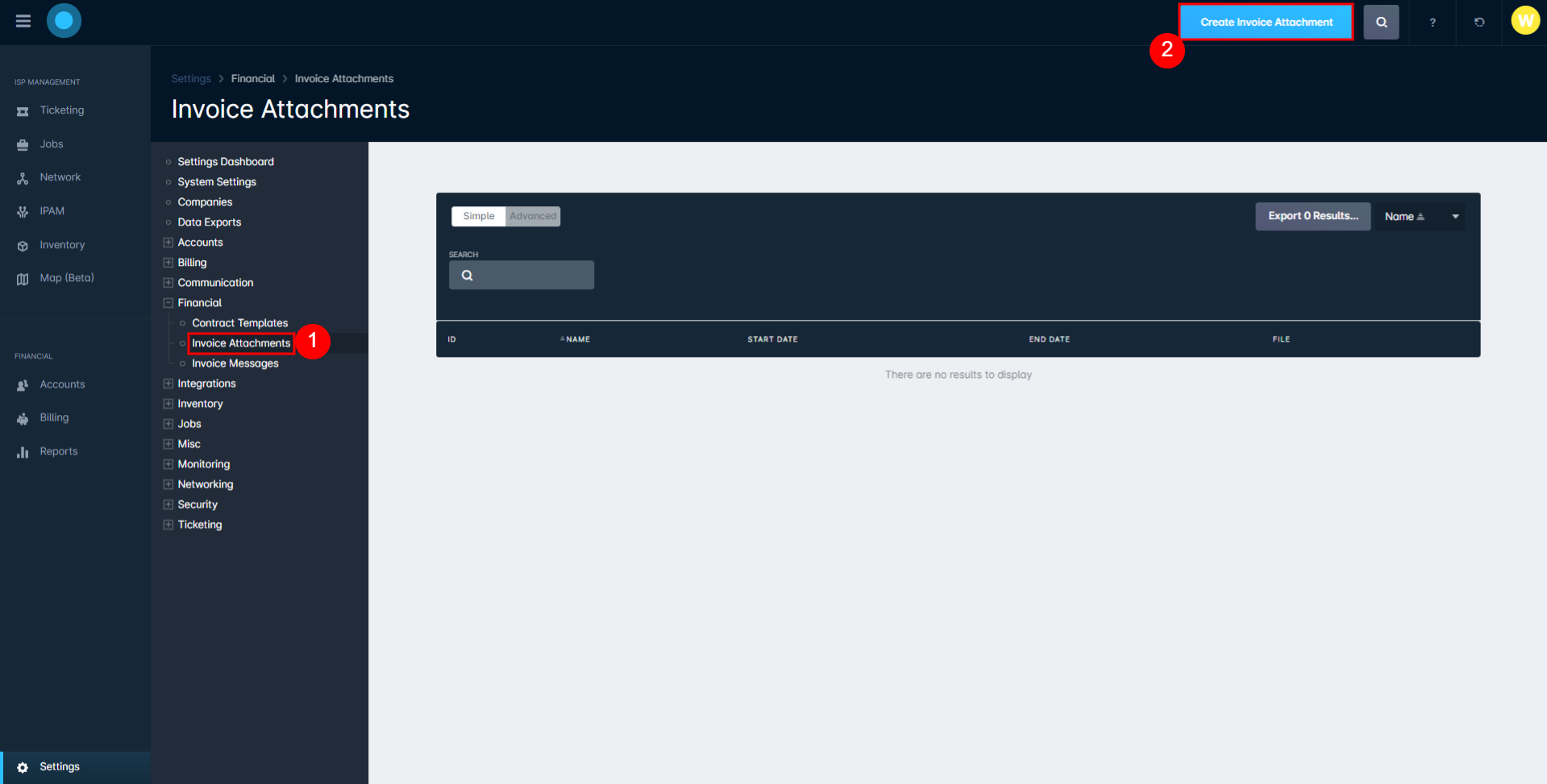 Once you click "Create", an additional pop-up window will appear called Create Invoice Attachment. This is where you will give the invoice attachment a name, specify a start and end date, and upload the file you want to attach.
Only application and PDF file formats are acceptable to upload as invoice attachments.
Once the file has successfully uploaded, the File bar will turn green to indicate that the upload is complete.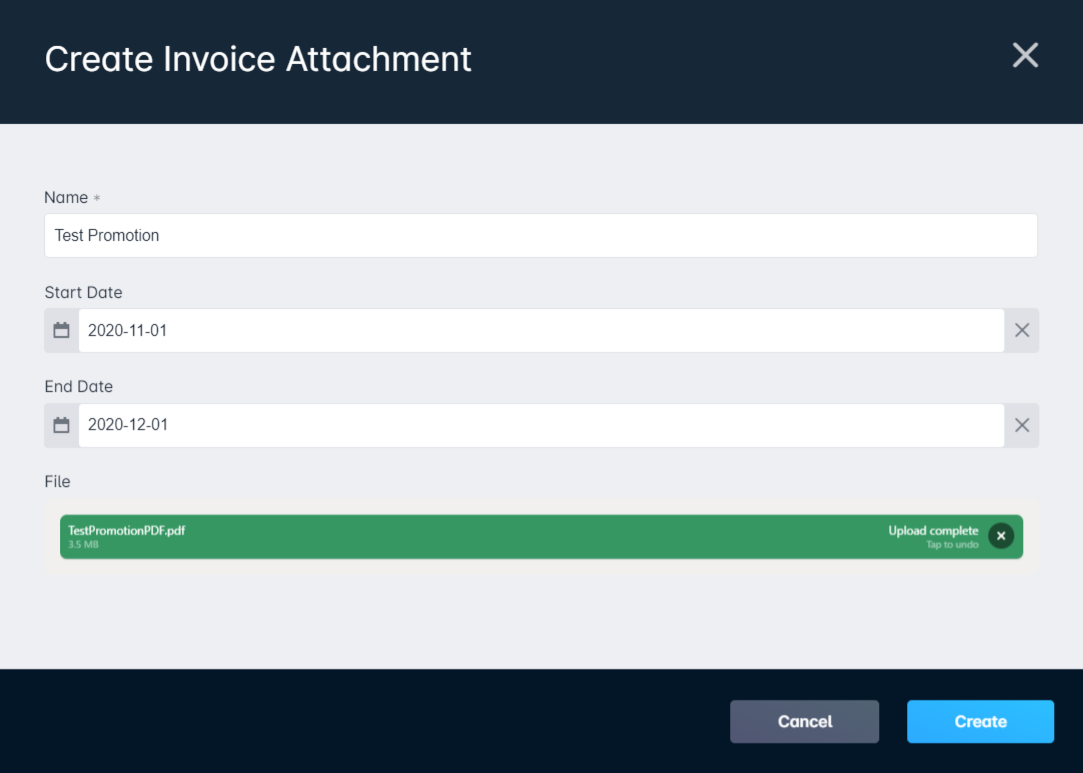 If the End Date field is not filled out when creating the invoice attachment, the file will be attached to all invoices until it is removed - either by deleting the invoice attachment or editing it to specify an end date.
From here, you are ready to finish the invoice attachment creation by clicking "Create". Once created, the invoice attachment will now appear on the list, with the attachment name, file name, and start and end dates, as can be seen below.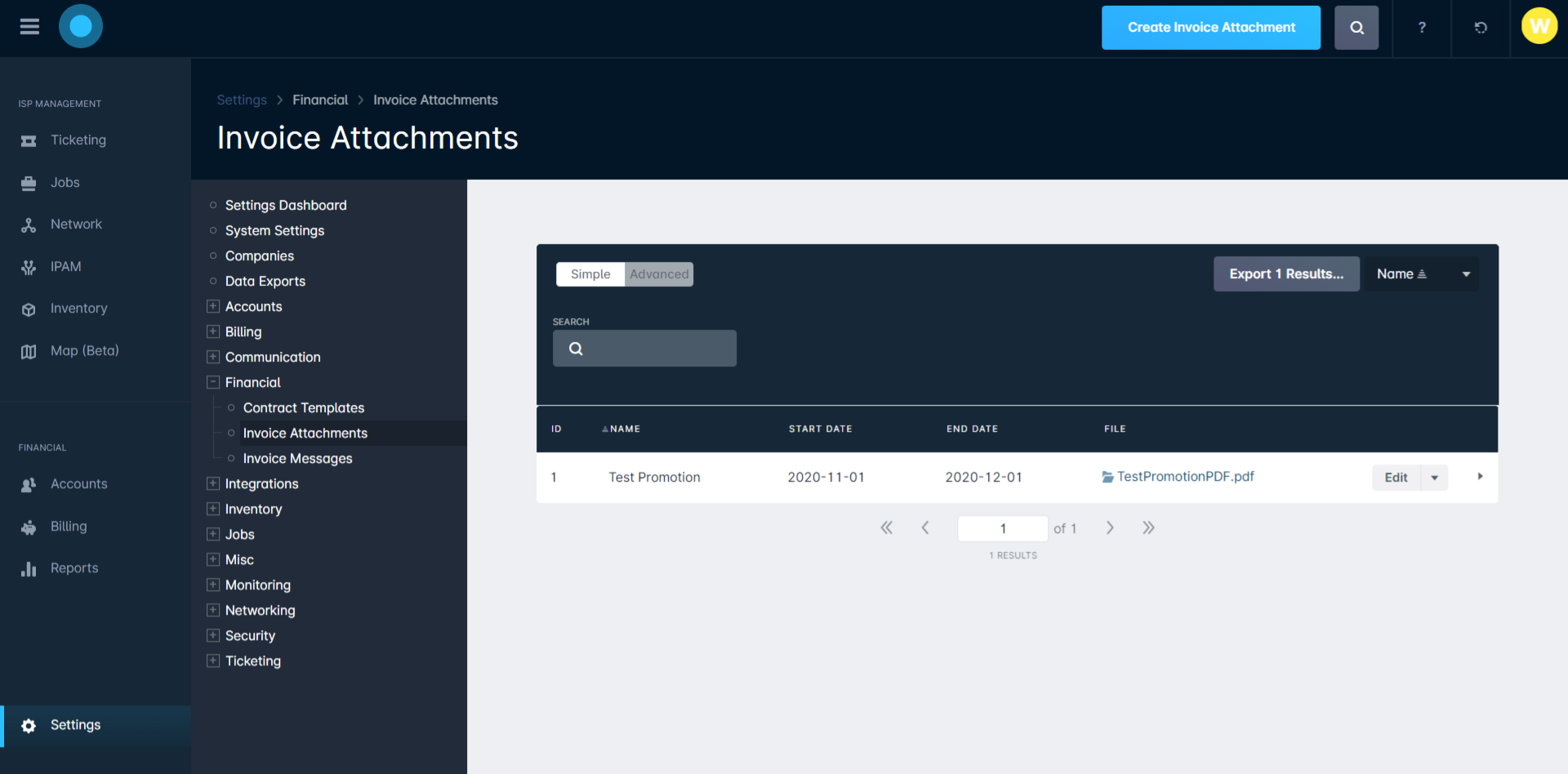 Viewing An Invoice Attachment
Once you have an invoice attachment created, you can view the details of it by clicking on the file name under the File column within the Invoice Attachments view.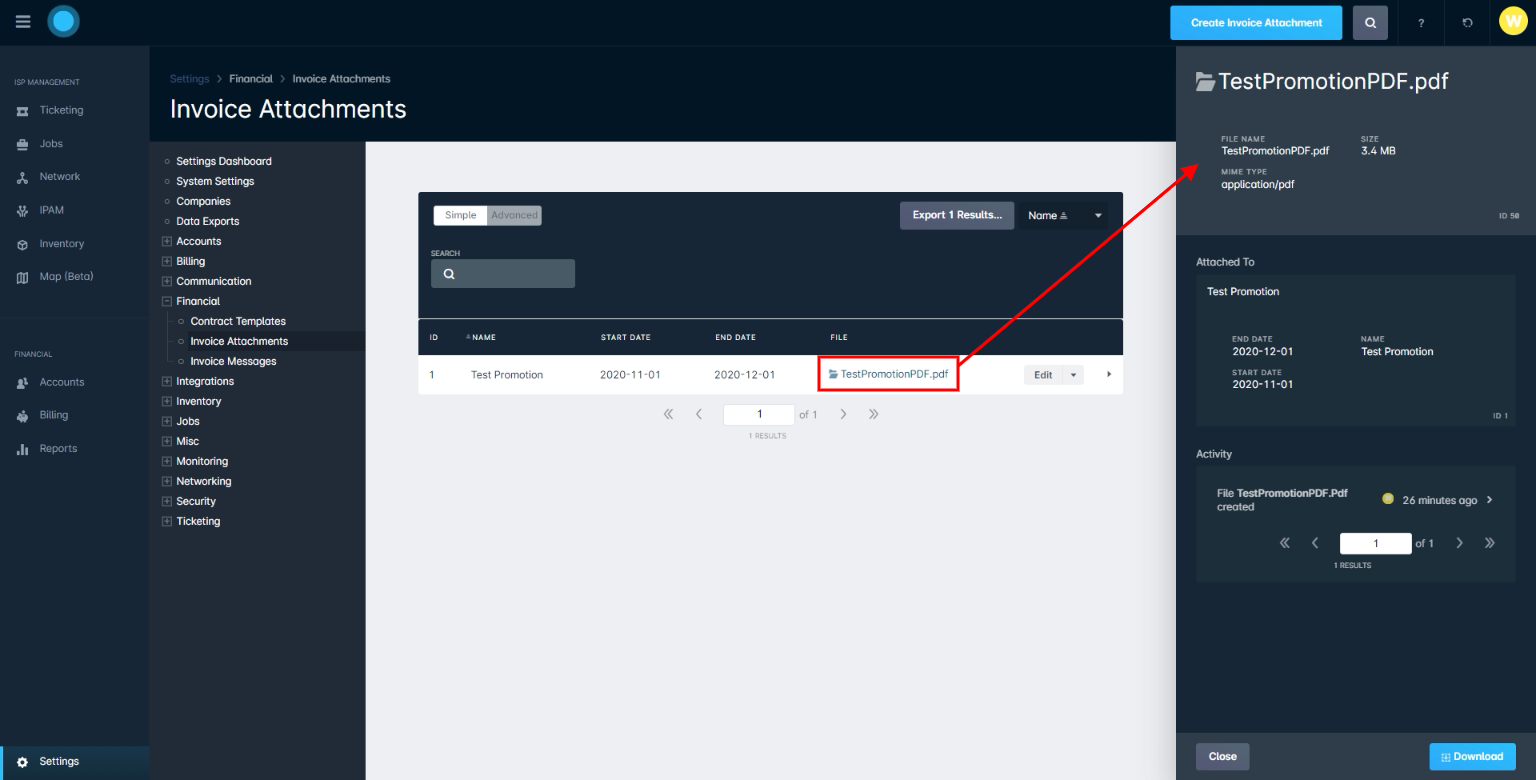 This will open up a sidebar window that contains all of the details of that particular invoice attachment, including the ability to download the attachment.
How To Edit/Delete An Invoice Attachment
To Edit: To edit an existing invoice attachment, simply find it in the list of invoice attachments and select the "Edit" button that is next to it. Doing so will cause a pop-up window to appear that will look similar to when you are first creating an invoice attachment, where you can edit the details; however, you can only edit the name of the invoice attachment, and the start and end dates - you are not able to edit the file that is attached.
To Delete: To delete an existing invoice attachment, find it in the list and click the downwards arrow next to the Edit button - this will cause the Delete option to appear. Clicking "Delete" will result in the Delete Invoice Attachment pop-up window appearing; this is to confirm that you indeed want to take this action. Click "Delete" again to permanently delete the invoice attachment. Once done, a message will be displayed in the top left corner indicating that the invoice attachment has been deleted successfully.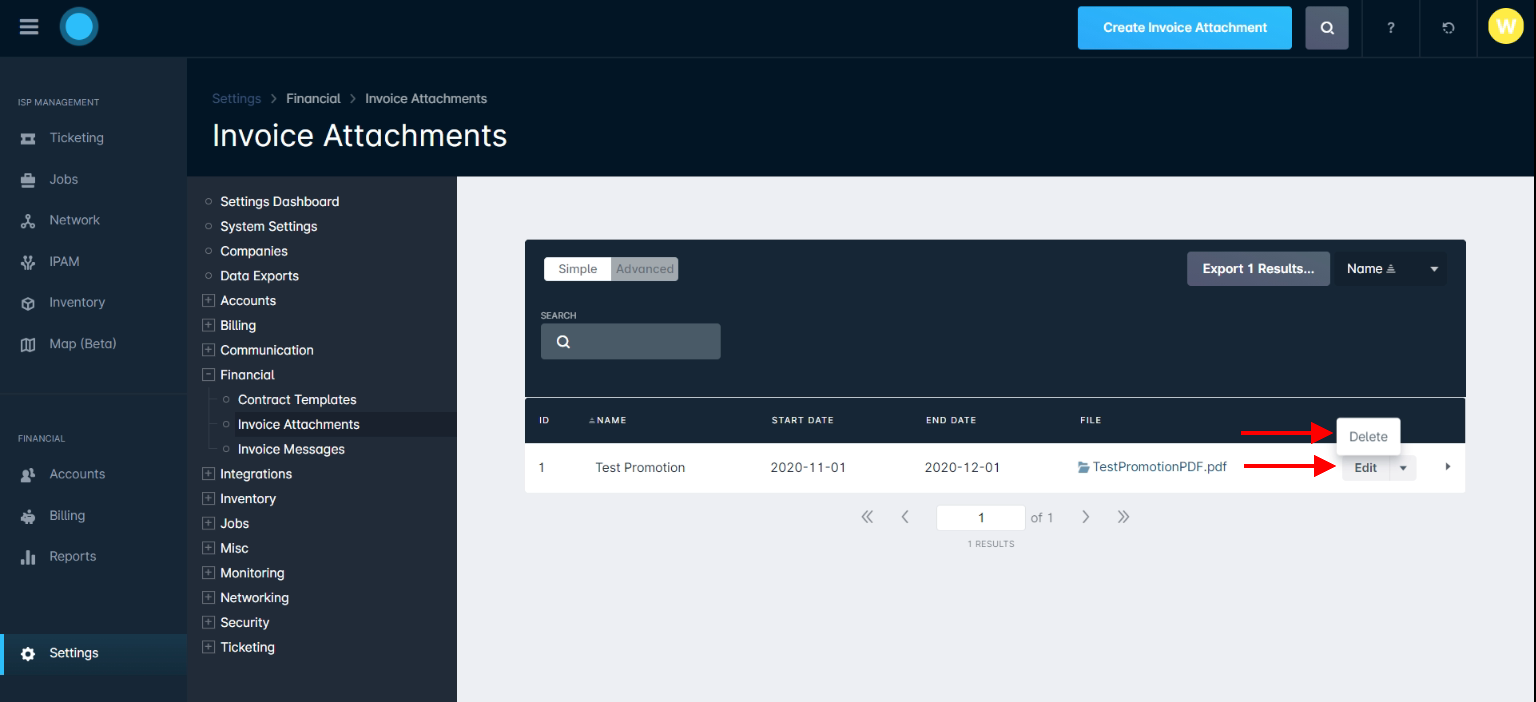 Example PDFs
Below are three example PDFs that could be added as invoice attachments to be sent out to customers.
Family Package Promotion - Here we have a limited time marketing promotion that we want to make our customers aware of. Attaching this to the invoices that are sent out will help ensure that the customers are aware of this promotion and can take advantage of it, if interested.
Service Upgrade Advertisement - We have another example here of a marketing promotion that can be used to send out to customers. However, these are not new services being offered; instead, they are services that we have been offering for a while but that we want to ensure our customers are aware of, in case they were already considering upgrading or changing their plan.
CPUC Notice - This example illustrates documentation that was at one point legally required to be attached to customer invoices, for the state of California. Invoice attachments can also be a very useful way to provide your customer base with not just marketing information, but any legally mandated documentation as well.