FCC Form 477: General Overview and Usage
FCC Form 477: General Overview and Usage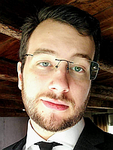 Updated by Mitchell Paul-Soumis
Read Time: 3 mins
This article is written from the perspective of making the most of Sonar's built-in Form 477 Reporting. For more information on the background of Form 477, visit this article |
https://startyourownisp.com/posts/form477/
What is the FCC Form 477
Form 477 is used by the FCC (Federal Communications Commission) in order to gather information on Internet Service Providers across the United States of America. The information gathered from Form 477 is categorized by US census tract and block, enabling the US Government to identify providers servicing areas and identify underserved areas of opportunity.
The information gathered by ISPs and delivered to the FCC is also used to power search tools such as BroadbandNow, which uses this data to create a searchable database of zip codes across the US and identify what provider(s) delivers service to the area.
As part of the FCC's data gathering, Form 477 is required to be submitted by all companies offering some level of broadband or voice services in the United States.
Broadband is specifically defined by the FCC in this case as any service capable of delivering speeds above 200 Kbps (up or down). So for all you Dial-Up providers out there, you're in the clear.
Because this filing is mandatory for service providers, it's important to have the correct tools at hand to provide accurate data and avoid common problems when filing Form 477.
For more information on 477 submissions, visit the official website
HERE
. There are also useful resources available directly from the FCC
here
, and an instructional PDF available directly from the FCC
here
.
How Sonar handles FCC Form 477
At any time, you can use Sonar to generate Form 477 based on the subscriber data and deployment data you have entered into Sonar. You can request this form by going to Settings > Accounts > FCC Form 477 Reports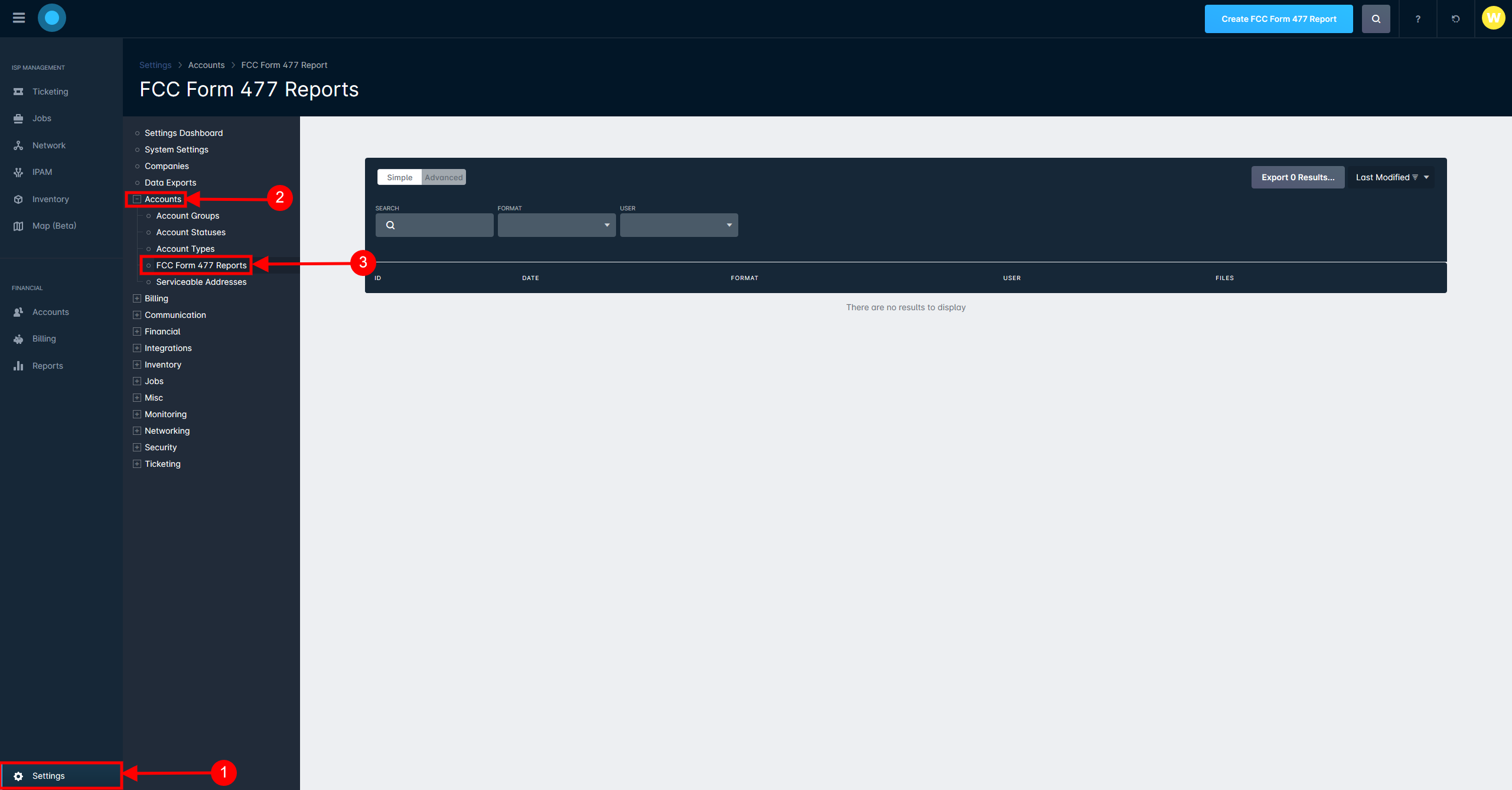 This page will display all historical FCC Form 477 requests and will allow you to generate a new one by clicking on the "Create FCC Form 477" button in the top-right hand corner.

That will open the Form creation window. This window allows you to create a new Form 477 report.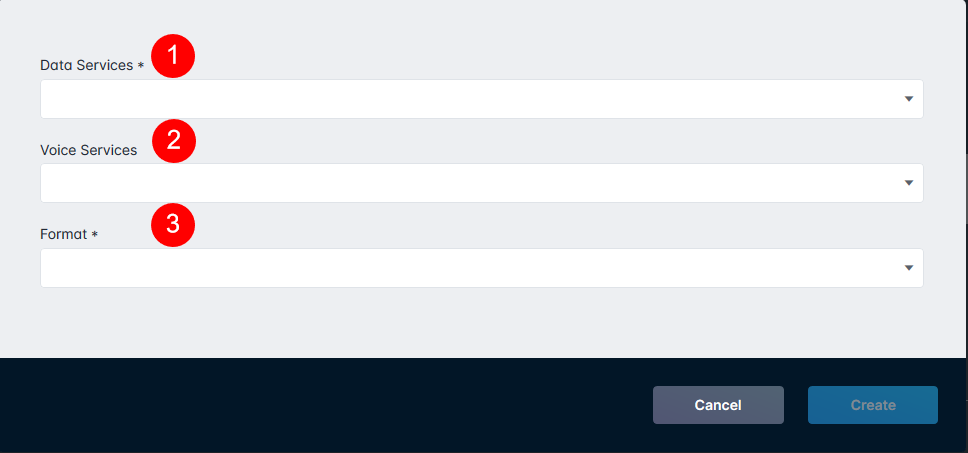 This window allows you to populate the information needed for the various forms you submit to the FCC:
The Data Services dropdown allows you to select the specific data service for use with report generation. This field is used as Subscriber Data, providing information to the FCC about how many customers are receiving what service level. Multiple Data services can be selected in order to combine them into a single report.

The FCC Form 477 Report will use the technology code associated with the data service during its creation. You can see more about Data Service creation in

this article

.

The Voice Services dropdown is nearly identical to the Data Services dropdown, allowing you to select multiple services to combine into one FCC Form 477 Report and provide the subscriber data to the FCC.
The Format dropdown allows you to select from the California-specific report format or the more generalized format for submission. Which format you need will depend on your service area.
The CPUC 477 reporting is only required for providers servicing subscribers in California. More information can be found
HERE
.
Once you click "Create" after completing the above information, the generated report will be sent in an email to the address on file for the user.
Additional Considerations on Deployment data from Sonar
Because there is no absolute coverage data contained within Sonar, coverage is not something that is definitive for broadband deployments, rather it is approximated by taking your serviceable address data assigned to active accounts and converts those GPS coordinates to the FIPS and the FIPS to the proper census tract. Because of this, it is possible that your coverage data will say that you do not cover an area that you do cover simply because you have zero subscribers in that tract.
Another consideration is that the FCC Form 477 will show commercial and governmental subscribers only not commercial and governmental service speeds.