FCC Data Exports: General Overview and Usage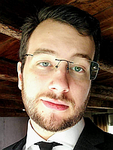 Updated by Mitchell Paul-Soumis
Read Time: 8 mins
What are FCC Data Exports?
FCC Data Exports are used by the FCC (Federal Communications Commission) to gather information on Internet Service Providers across the United States of America. Formerly known as "Form 477", this form was updated in 2022, and became the Broadband Data Collection Program. The table below lists the basic field data contained in the report, and whether Sonar can provide that data:
| | | | |
| --- | --- | --- | --- |
| BDC Filing Section | Can Sonar Generate Report? | Sonar Report File Name from FCC Data Export | Notes |
| Entity Identification | No | N/A | The Entity Information CSV file contains a list of information about the submitting company. Most of this information is not stored in Sonar, and once this file has been created, its details will rarely require updating. |
| Fixed Broadband Availability & Supporting Data | No | N/A | This report looks for a specifically detailed listing of all locations that are theoretically serviceable by the ISP, as well as the highest speeds offered at each location. Because Sonar only stores info pertaining to currently serviced locations, this is not something we can provide holistically. The Deployment_Data.csv data export we provide may prove helpful in starting to assemble info on your existing deployment areas, if you do not have this data available in another system. |
| Fixed Broadband Subscription | Yes | Subscription_Data.csv | We have updated the Technology Code options for selection on Data Service to include corresponding options for codes 61, 71 & 72. These new codes were introduced as part of the original BDC requirements. |
| Fixed Voice Subscription (Tract-level) | Yes | Voice_Data.csv | We have updated the Voice_Data.csv export to include the new "Lines" and "Seats" Voice Service Generic Parameters in its tallies. In cases where no lines and/or seats are present on the Account Voice Service, the quantity of the Account Voice Service itself will represent the number of voice channels sold. Otherwise, the number of Lines and/or Seats on an Account Voice Service will represent the number of voice channels sold. |
This table lists only the fields required for either "Facilities-based Providers of Fixed Broadband Service" and "Providers of Interconnected VoIP Service". These provider types are what apply to the features and workflows that Sonar's software has been tailored to. The below table shows the other Provider Types that fall under BDC filing requirements, and the additional reports that are applicable to them. None of these additional reports can be generated via data exports from Sonar.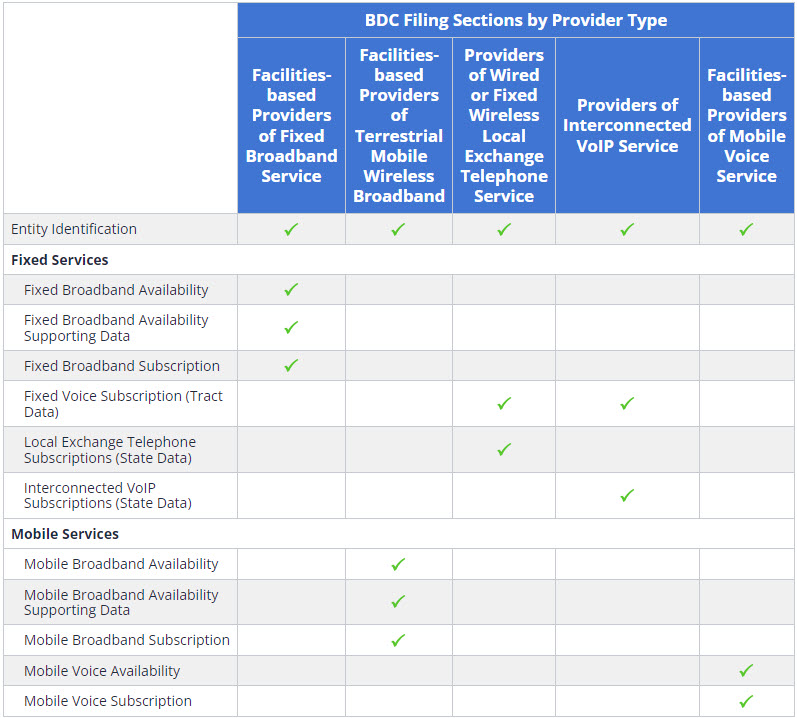 The information gathered by ISPs and delivered to the FCC is also used to power search tools such as BroadbandNow. They use this data to create a searchable database of zip codes across the US and identify what provider(s) delivers service to the area.
Broadband is specifically defined by the FCC in this case as any service capable of delivering speeds above 200 Kbps (up or down). So for all you Dial-Up providers out there, you're in the clear.
Because this filing is mandatory for service providers, it's important to have the correct tools at hand to provide accurate data and avoid common problems when filing the BDC form.
There are useful resources available directly from the FCC
here
, and an instructional PDF available directly from the FCC
here
.
Please note: Sonar will never submit the report on your FCC portal for you.
How Sonar Handles the Broadband Data Collection Form
Please note: the data contained in this data export will be reflective of the day the report was generated on.
At any time, you can use Sonar to generate FCC data exports based on the subscriber data and deployment data you have entered into Sonar. You can obtain this data by navigating to the Settings menu → Accounts → FCC Data Exports.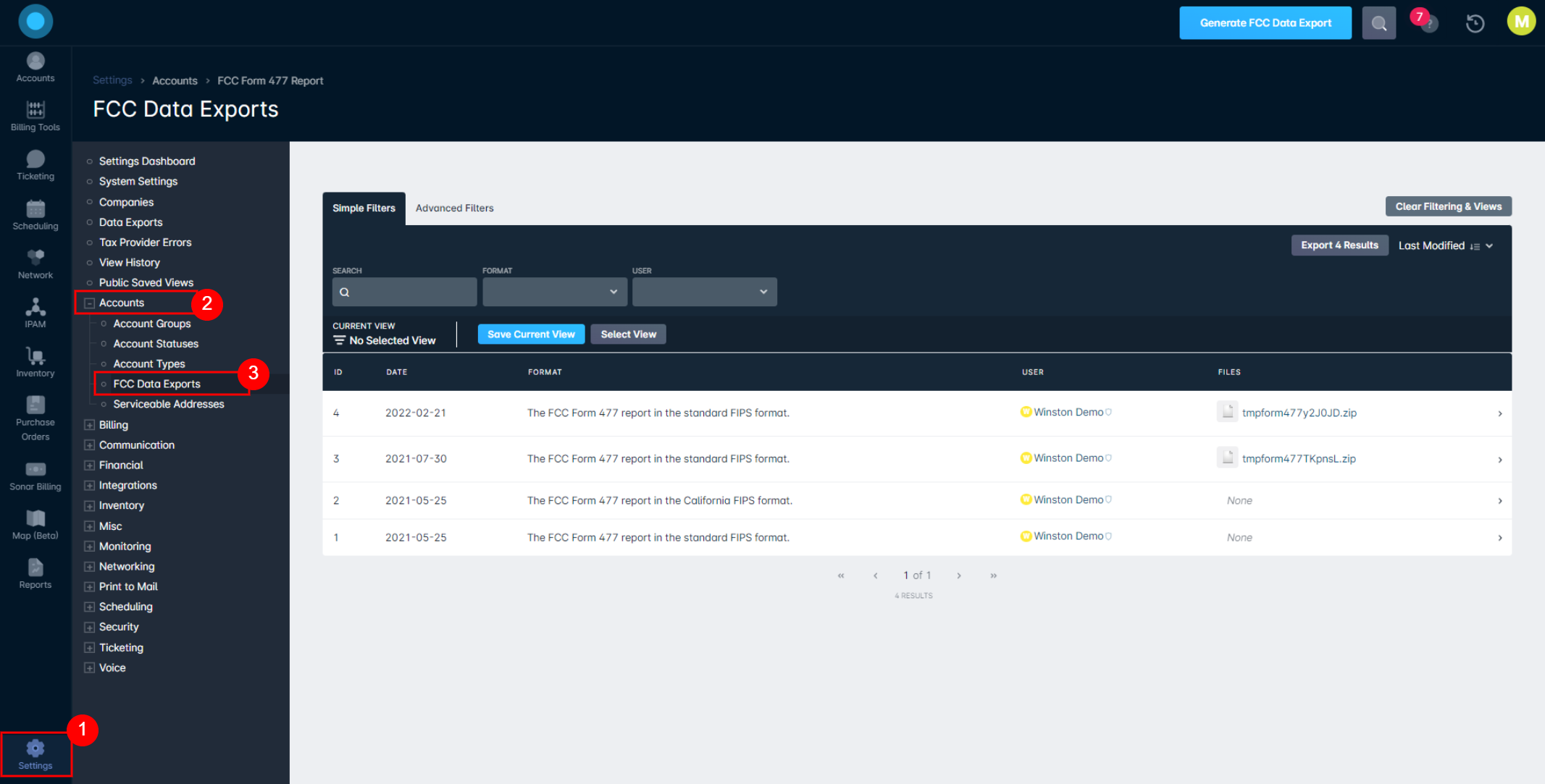 This page will display all historical FCC Data Export requests and will allow you to generate a new one by clicking on the "Generate FCC Data Export" button in the top-right corner.

Clicking "Generate FCC Data Export" will open a new window, where you can specify the data you wish to export.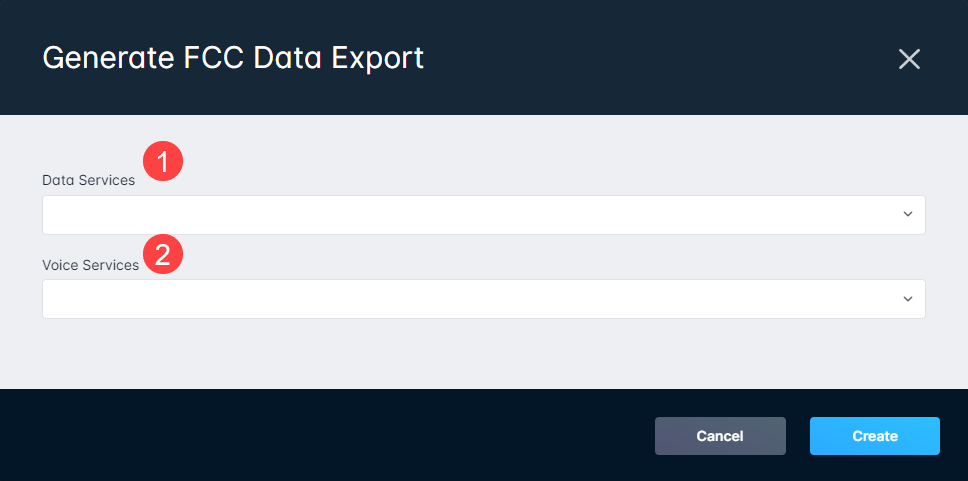 This window allows you to populate the information needed for the various forms you submit to the FCC:
The Data Services dropdown allows you to select the specific data service for use with report generation. This field is used as Subscriber Data, providing information to the FCC about how many customers are receiving what service level. Multiple Data services can be selected to combine them into a single report.

The FCC Data Export will use the technology code associated with the data service during its creation. You can see more about Data Service creation in

this article

.

The Voice Services dropdown is nearly identical to the Data Services dropdown, allowing you to select multiple services to combine into one FCC Data Export and provide the subscriber data to the FCC.

As of June 2022, if your company requires information about voice data and failures in a format compatible with FCC Data Exports, please contact your designated Client Experience Manager or our Support team (support@sonar.software / 702-447-1247) to request a custom report that will include this information.
Once you click "Create" after completing the above information, the generated data export will appear and be downloadable in the FCC Data Exports table.
Additional Considerations
FCC Data Exports & Deployment Data in Sonar
Since there is no absolute coverage data contained within Sonar, coverage is not something that is definitive for broadband deployments, rather it is approximated by taking your serviceable address data assigned to active accounts and converting those GPS coordinates to the FIPS and the FIPS to the proper census tract. Because of this, it is possible that your coverage data will say that you do not cover an area that you do cover, simply because you have zero subscribers in that tract.
Another consideration is that the FCC Data Export will show commercial and governmental subscribers only, not commercial and governmental service speeds.
Please note, deployment data is based on your current subscribers, not the broadcast capability of the devices. We recommend leveraging a third-party resource such as
Tower Coverage
, with Sonar's FCC Data Export, to support the complete Broadband Data Collection reporting requirements.
Please note, one element of the required deployment data for FCC reporting is whether the provider can or does offer residential service in the block or commercial service in the block. When you use multiple Sonar Account Types, the data has to be combined for FCC reporting purposes. This is not an insurmountable obstacle, but an unnecessary complication if it can be avoided.
Using the FCC Data Export with Multiple Companies
To accurately manage BDC filing with multiple companies, an option is provided within your instance settings that allows you to select between listing every account under your default company, or listing them under the company the account is registered to.
To configure this setting, you'll need to:
Navigate to Settings → System Settings
Scroll down to the FCC Export section
In the "FCC Export Company Source" dropdown, select either "System-wide default company" or "Company of the account"
Save your changes
When to Use Each Option
The primary difference between both these settings has to do with how you present your organization. For example, if your multiple companies are simply flanker brands in different markets, you could choose to have the report fall under your main company and make a single submission.
Conversely, if your multiple companies are truly operationally distinct, it would make sense to make multiple submissions for each company and have the report generate details for each account according to the company it belongs to.
Troubleshooting your BDC Filing
If you've received communication from the FCC regarding an incorrect filing, there are a few things to note and attempt. The FCC will email your organization if there are any questions or corrections to be made on the filing. If you contact support for assistance, please provide the entire email from the FCC for the most appropriate assistance.
If corrections need to be made to your report, you can either manually update the data contained in the CSV or generate a new data export after addressing the issues in Sonar.
FCC Data Exports are only ever generated with the current data - this means a new report being generated may have new accounts or Deployment Data information that did not exist in the original report. For this reason, Sonar can't provide a recommendation to either correct an existing report or generate a new one for any corrections.
Troubleshooting your Reported Speeds
The speeds reported by the FCC Data Export are generated directly from the Data services you've created in Sonar. When a Data Service is generated, you enter an "Upload speed in kilobits per second" and "Download speed in kilobits per second":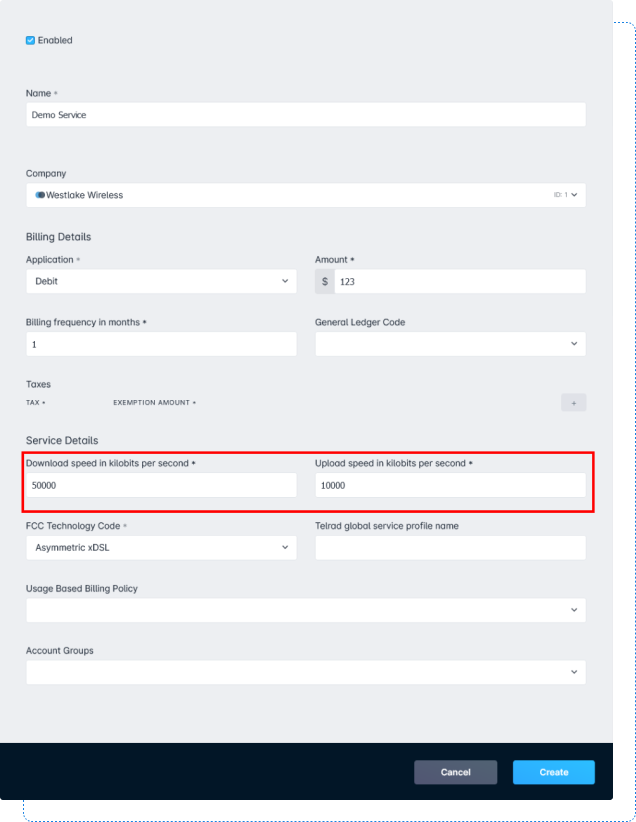 This section should be the same as your advertised speeds, and shouldn't be modified for actual speeds being delivered to the customer. The generated data export will always use these speeds, and your configured Inline Devices or DHCP servers won't affect the reported speeds.
If you're having issues with specific services, you can contact the Support team to receive assistance generating a custom report that allows you to easily view all your services.
Troubleshooting your Reported Addresses/Deployment Data
When generating FCC Data Exports, the addresses and the deployment data use the Serviceable Address of the accounts in your instance.
If your addresses are being reported incorrectly, ensure the city, state, and street address information is correct.
If the Census Codes are being reported incorrectly, verify the Latitude and Longitude of your Serviceable Addresses.
Ensure you place the pin in the correct location on the map for your serviceable addresses - an antenna installed a 1/2 mile from the house will result in a different census block
The FCC Data Export will only show where you currently have service, it won't show where you could potentially serve new customers.