Sonar's Business Intelligence: Overview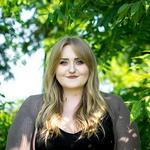 Updated by Kristen Fiddes
Read Time: 2 mins
Reports provide useful insights into information such as customer growth, invoiced revenue, delinquencies, etc. With Sonar's Business Intelligence tool, reports are issued in your instance as user-friendly, browser-based dashboards that assist in visualizing the range of data captured. By default, your instance includes stock reports related to Accounts and Financials. With a Report License, you are able to access the advanced features of Sonar's Business Intelligence tool and build custom reports to suit your specific needs.
How to Access Reports
To access Reports, navigate to the menu column located to the left side of your instance. Upon clicking "Reports", you'll see a dashboard that reflects each report as a tile.

Selecting a tile will navigate you to a report that displays all data directly related to the subject matter selected. From this display, you have access to further features, such as filtering the results to drill into data, setting up alerts corresponding to certain thresholds, and more.
Role Permissions Required
While the reporting dashboard is accessible to every instance, not all users will be able to access the reports themselves. Reporting is tied to role permissions, thereby allowing you to restrict this dashboard to specific users. To enable, or disable, access you would navigate to Settings -> Roles and as you create or edit a role, you can adjust the permissions as shown below.

Learning Resources
The additional learning tools available to you are highlighted below and are provided in the form of in-app walkthroughs as well as Sonar cast videos.
Sonar Cast Videos
There are two Sonar cast videos that can assist you when becoming familiar with Sonar's Business Intelligence reporting - both of them are available below.
Sonar Cast: Navigating the Reports Dashboard
Sonar Cast: How to Create a Report
All of our Sonar cast videos are available from
our Vimeo page
, but can also be accessed directly from within your instance via the Resource Center (found by clicking on the
?
in the upper right corner of your instance). For more information on our Resource Center, click
here
.
In-App Guides
When the Reports page is open in your instance, a new category can be found in the Resource Center titled "In-App Guides". Brief walkthroughs are located here that will provide assistance in becoming familiar with the various functions the Business Intelligence tool can provide in Sonar.
The Resource Center can be found by clicking on the
?
in the upper right corner of your instance. For more information on our Resource Center, click
here
.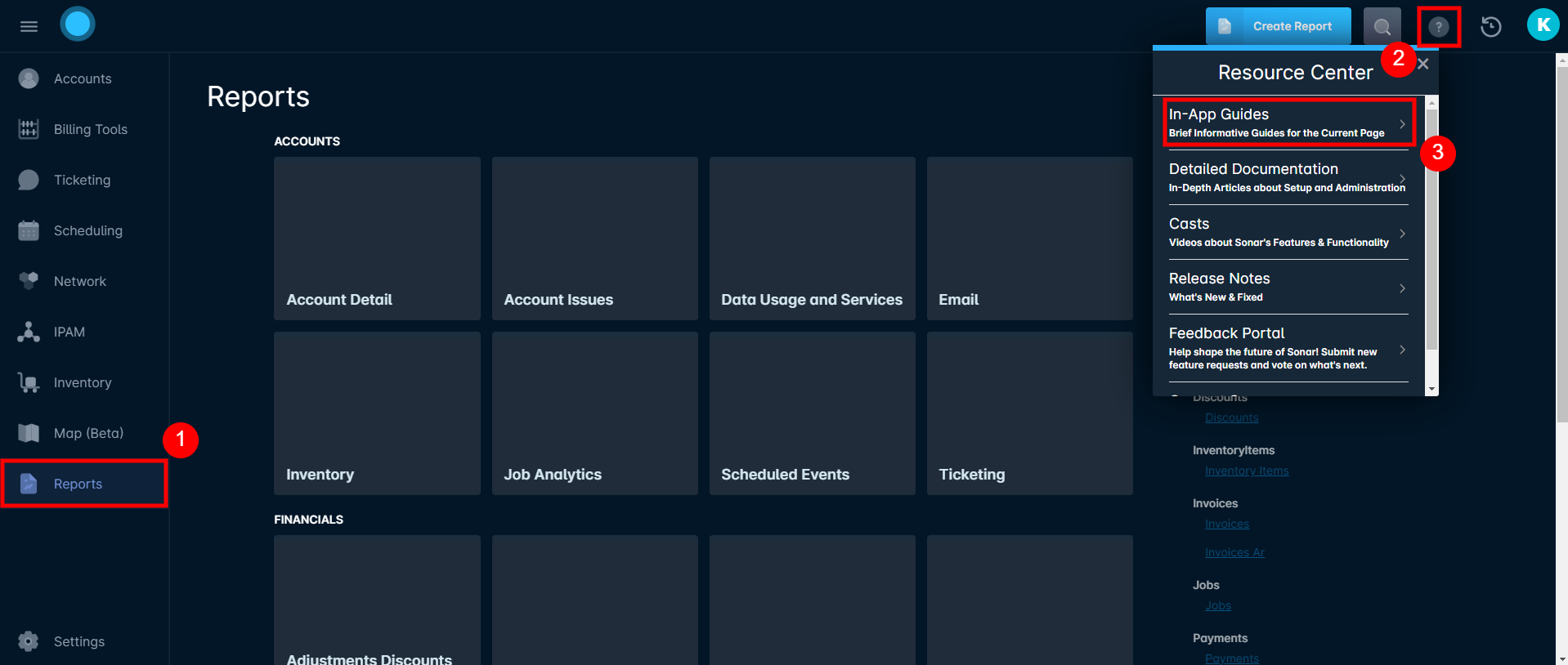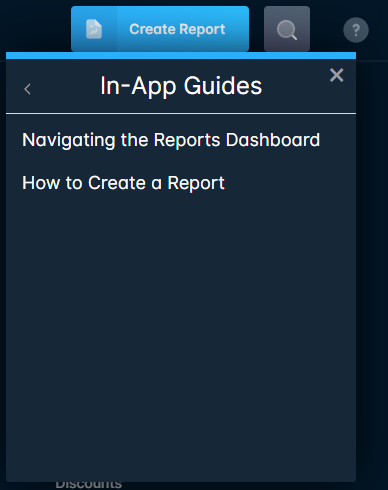 Listed below are the available in-app guides related to Sonar's Business Intelligence tool, along with a brief summary of what information the guides cover.
Navigating the Reports Dashboard
This walkthrough outlines the steps used to navigate the dashboard and how to filter the data in an individual report. It also details the options available to download and/or send the data elsewhere.
How to Create a Report
This walkthrough is only available to those that have a
Report License
on their instance user.
This walkthrough guides you through the creation process for a custom report, as well as how to publish the report and share it with other users of your Sonar instance.
Helpful Reporting Tips
How to Schedule Detailed Reports
Detailed reports include those with an output greater than 500 rows in a CSV file.
Navigate to Reports and open the report dashboard you wish to schedule
Identify the detail tile you wish to download and then select the 3 dots in the upper right corner of the tile and select Explore from Here
With the next page populated, click the gear icon and select Save & Schedule...
In the new modal, add a title (required) and a description (optional) and then select Save & View Look
On the next page, hover over the gear icon and select Schedule...
The final modal allows you to customize the delivery of the data:

Where should this data go? allows you to select where the scheduled report should go; if you select Email you'll be prompted to add the intended recipients of the report, if Amazon S3 then you'll add the S3 details, etc.
Format data as provides the option of how the data is reflected; in most cases, a CSV would be most useful.
Deliver this schedule is where you'll configure the repetition of when the report is sent, along with the time of day.

Select Advanced Options and then All Results
Click on Save All
How to Check Inventory Count
Navigate to Reports > Inventory
Expand the Filters dropdown and use the operator alongside Inventory Count to select is less than, then input the number you want to filter by
Select Run and the tiles below will be updated to reflect the relevant data for your query
How to Set Up Inventory Alerts
Hover your mouse over Inventory By Assignee and click on the bell icon
The new modal allows you to set the parameters for your alert:

Underneath Condition, use the operators to reflect Is less than and then input the number of your threshold
Set the email addresses to be alerted below Where to send it
Use the Frequency and Time to dictate how often you want to be informed of low stock levels

Click on Save Alert