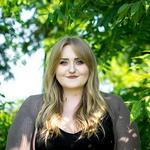 Updated by Kristen Fiddes
Read Time: 10 mins
The Print to Mail feature provides the ability to have your automatically generated invoices printed and mailed to your customers, without requiring intervention from you or Sonar staff. Available directly from within your Sonar instance, you can enable or disable the feature in a few simple steps, as well as add funds to cover future invoice batches to be sent out. All invoices sent out include a return envelope so customers are easily able to mail checks in, along with their remittance slips.
The invoice batch generated for Print to Mail uses a unique invoice template so the option underneath Companies for "Show remittance slip" does not apply.
Only accounts with Print Invoice enabled will receive mailed invoices, to verify this setting please see below:

The option

Print Invoice

is initially managed by your

Billing Default

settings. However, it can be changed on an individual account basis. Below, we detail how to verify this option is enabled via both methods.

Billing Default

1. In your instance, navigate to

Settings

>

Billing

>

Billing Defaults


2. Click on

Edit

alongside the default you want to edit/verify

3. In the newly populated modal, look for the

Print Invoice

box and make sure there's a checkmark present

Account Billing Settings

1. In a customer's account, navigate to

Billing

>

Billing Configuration

2. Click on

Edit

3. Scroll to the bottom of the newly populated modal and look for the

Print Invoice

box and make sure there's a checkmark visible
Print to Mail is limited to businesses operating out of the USA and Canada only.

If there are any customer mailing addresses located outside of the two aforementioned regions, their invoices will automatically be excluded from any batches.
Permissions
In order to make use of the Print to Mail feature, the corresponding role permissions must be enabled first. Please take a moment to review these new permissions, and ensure that the relevant roles have them added before proceeding with any walkthrough steps below.
If you're a Super-Admin of your Sonar instance, no permission changes are required for your account. For more information on Roles and Permissions overall, please review 
this linked article
.
Navigate to Settings > Security > Roles and either choose to edit an existing Role or create a new Role. With the next page populated, locate the permissions reflected in the screenshots below and enable whichever ones are applicable to that Role.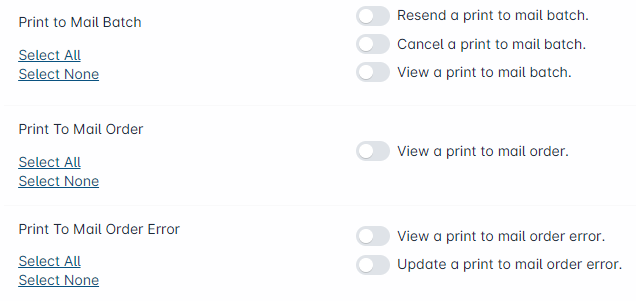 Print to Mail Settings
To access the Print to Mail settings within your instance, navigate to Settings > Sonar Billing > Print to Mail Settings. From here, you're able to enable and disable the feature, customize how you want the invoices to be printed and adjust the Low Funds Threshold. Below, we'll dig into the individual options.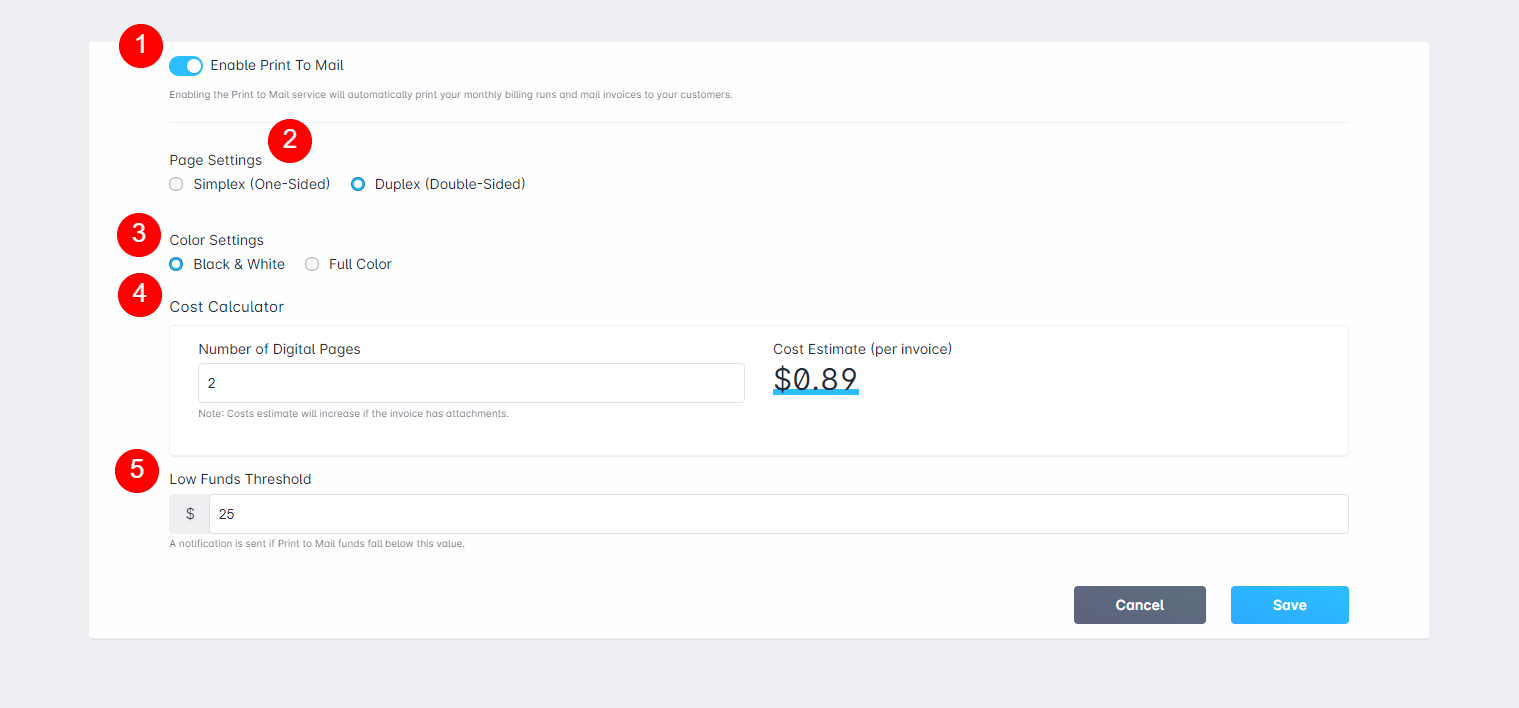 The trigger here allows you to enable or disable the Print to Mail feature. When disabled, the options below the trigger will disappear and all paper invoices will need to be printed and mailed manually.
Page Settings determine how you would like the invoice to be displayed for the customer, either with the information on one side (resulting in more pages) or on two sides.
Color Settings provide an added layer to customizing how you want your paper invoices to be displayed to customers.

Full Color and Duplex do have a higher price point.

The Cost Calculator provides an estimation of the cost per invoice; as you toggle the Page Settings, Color Settings, and Numbers of Digital Pages, the Cost Estimate will change.

The cost will be reflected in either USD or CAD and will vary depending on your business' country of operation.

As invoice batches are paid for as they are sent out, the Low Funds Threshold allows you to be notified if the amount drops below a certain amount. In the event of this happening, an alert will be sent to those with the applicable notifications set.
Notifications
Print to Mail notifications ensure that you are informed if a specific criteria is met. The four notifications are as follows:
When a print to mail batch fails.
When there are insufficient funds available to send a print to mail batch..
When a print to mail batch has completed
When the funds available for print to mail fall below the configured threshold.
To enable these for your user, navigate to your Notification Preferences.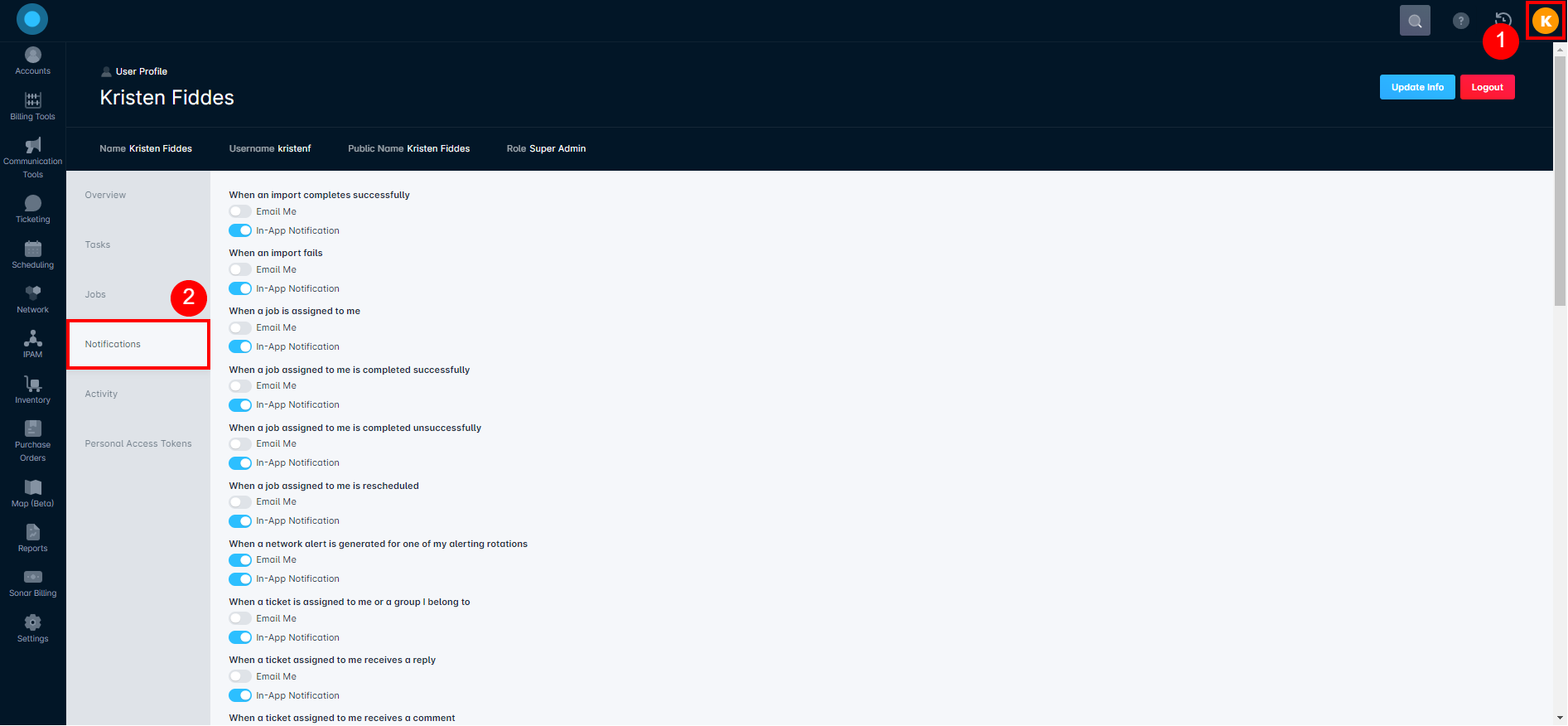 Once populated, locate the print to mail notifications and enable the trigger for Email Me and/or In-App Notification.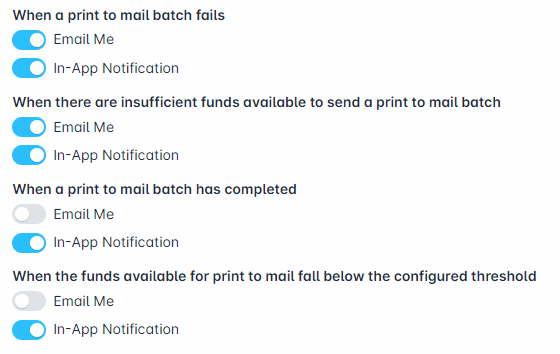 Sonar Billing
Sonar Billing offers more than access to the Print to Mail feature. From here, you're able to update your credit card information with Sonar, view previous transactions, access invoices for both your instance fees, and view your Print to Mail and SMS transactions.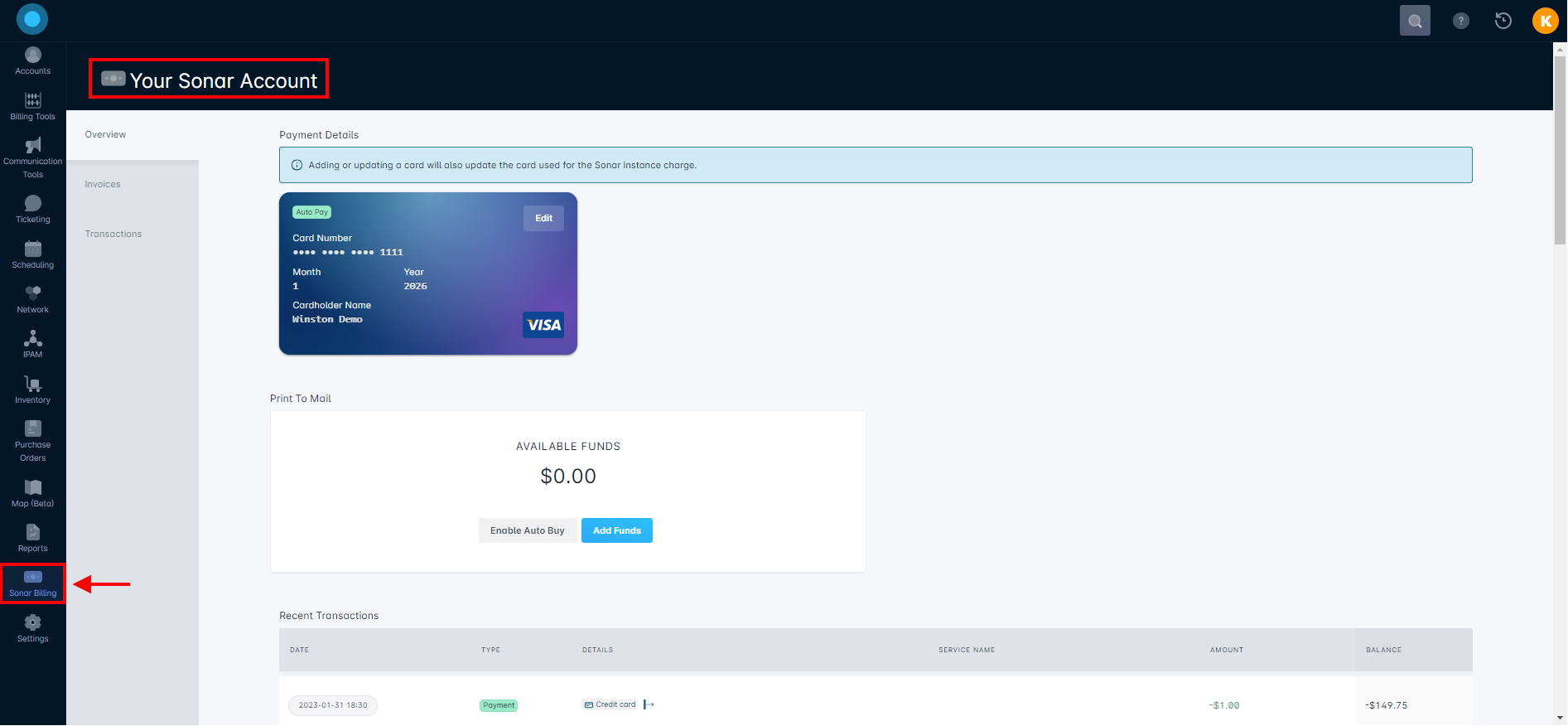 Overview
The information reflected on the Overview page of Your Sonar Account depends on a few variables:
What displays underneath Payment Details depends on whether you've previously set a credit card to autopay for your instance fees, or if you've since added a card from the page shown in the screenshot below. If you have added a credit card through our team, but declined to set it to auto pay, the card will not display here. Without a credit card set to autopay, you are limited in some of the features of Print to Mail which we'll touch on below.
The Print to Mail section reflects any available funds; this amount is separate from any upcoming instance fees.
Recent Transactions provides a brief snapshot of the latest transactions regarding both your instance, Print to Mail and SMS. For a list of all transactions, you'd simply navigate to the Transactions header in the column to the left.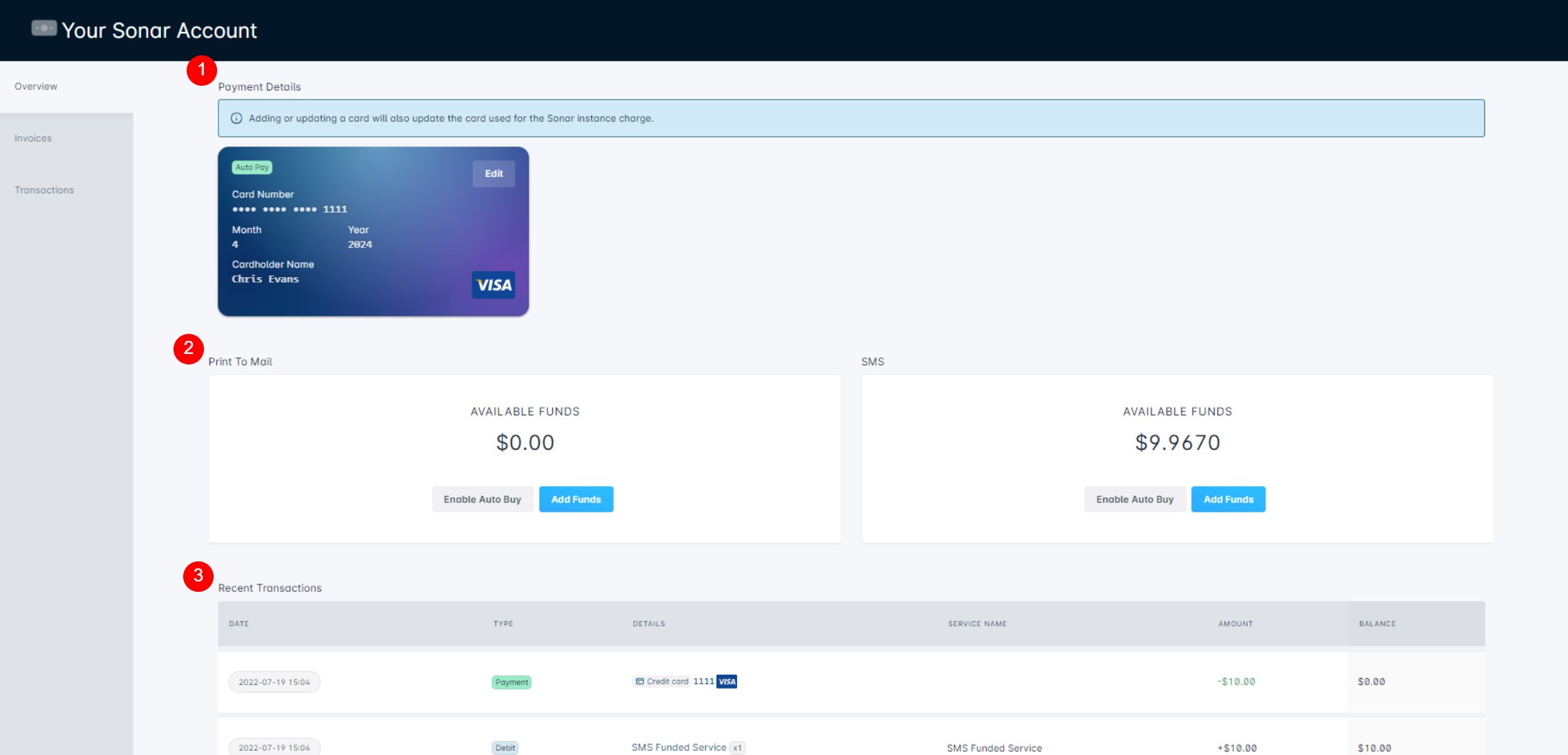 The charges for Print to Mail are applied as batches are processed. This means that there either needs to be funds available in your instance or have auto buy enabled; we'll touch on the latter option below. However, to add funds to your instance, you must have a credit card reflected under Your Sonar Account.
If there is not one already visible here, you would click Add Credit Card and input the applicable card details. Once added, the card is automatically set to Auto Pay. With a card added, you're able to select Add Funds and input the amount you wish to add in the new modal. The card will immediately be charged and the funds will sit as a credit in your instance, ready to be used as batches are processed.
The minimum amount that can be added at a time is $10.
If a credit card is added to Sonar Billing, any future instance charges will automatically be applied towards the card added.
How to Enable Auto Buy
Auto Buy works differently to Auto Pay; it is specific only to Print to Mail and/or SMS and means that as funds are needed to process batches or notifications, the card is charged for the total sum at that time. Auto Buy can be enabled for just Print to Mail and not SMS, or vice versa. To enable Auto Buy, follow the steps below:
Before you can enable Auto Buy, Print to Mail must be enabled within your instance and a credit card must exist in your Sonar Billing.
Navigate to Sonar Billing using the menu options in the column to the left of your screen.
Click the Enable Auto Buy button underneath the Print to Mail section.
In the new modal that appears, add a checkmark alongside Enable Auto Buy and click Save.
The minimum transaction amount is $10. If an invoice batch is processed that costs less than this, $10 will be charged towards the credit card, and the remaining balance will sit as Available Funds and be used for any future batches.
Invoices
The invoices displayed here will include both your instance invoices and any created for Print to Mail transactions. Each line item displays the invoice number and some basic details about the invoice such as the date and amount; you're able to save a further breakdown by clicking Download Invoice on the corresponding line item.

To view the details of a particular invoice, click on the invoice number (located under the ID column) - doing so will expand the selected invoice.
Transactions
The Transactions tab provides a full view of all transactions processed for your instance and the Print to Mail feature. With each line item, you're able to identify the date the transaction took place, the transaction title and the total amount processed.
To view the details of a particular transaction, click on the transaction's date (located under the DATE column) - doing so will expand the selected transaction and provide you with additional inner tabs that you can cycle through.
Print to Mail Batches
Billing Tools provide access to a subsection titled Print to Mail Batches that reflect all batches attempted so far; this will include those that are complete, still in progress, and any that have failed. For each batch item, you are able to click on the corresponding arrow to the far right and populate a side menu that details the cost of the batch along with its details e.g. duplex, full color or simplex, black & white. The side menu also provides historical information as to when the batch was moved to in progress, whether it failed at any point, and finally when it moved to a completed status.
Batches begin to process after a brief delay, which means that there is only a short window to cancel a batch if it is required. The only alternate time you're able to cancel a batch is if it fails, at which point you're able to either correct the error prompting the failure or cancel the batch altogether. If a batch moves into an "In Progress" status, this would indicate that the request has been received but has not yet been processed.
Invoice batches are typically processed the day following the invoice date. For example, if an invoice is dated 5th April 2022, it will be processed the following day 6th April 2022. Batches are not mailed out over weekends or holidays, therefore a batch issued on a Friday would not be mailed until the following Monday.
Failed Batches
If an address cannot be validated, the batch will fail to be sent out until the problem address is corrected. In this event, you are able to easily identify the affected batch by the red FAILED status.
Any users with the notifications enabled for "When a print to mail batch fails" will be notified via the method they selected in this event.

To identify and correct any errors, follow the steps below:
Click the button Fix Errors and Resend.
In the newly populated window, you'll be provided a list of the addresses that require corrections. Once you've identified the error, click Update Address.

Make any necessary adjustments in the next modal and once complete, click Resend Print to Mail Batch.
Alternatively, you are also able to cancel the Print to Mail Batch from the same screen shown above.
At this time, there is no address validation for addresses outside of the USA.
Insufficient Funds
If a batch were to fail due to insufficient funds, the status will reflect this specific error.
Any users with the notifications enabled for "When there are insufficient funds available to send a print to mail batch" will be notified via the method they selected in this event.

In this event, you would need to add additional funds before the outstanding batches can be sent. This can be done from the Sonar Billing page if there is an existing credit card. Alternatively, you are able to contact our Support team and request that they process a charge for a specified amount which can then be completed by our Billing team.