Learning with Sonar: Tools and Resources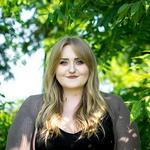 Updated by Kristen Fiddes
Read Time: 8 mins
Resource Center
The Resource Center can be accessed within your Sonar instance by clicking on the "?" icon, found in the top-right corner. Once opened, you will be presented with a list of Sonar-related content, ranging from our Cast videos to Release Notes.
While most resources shown below can be accessed via alternate methods, such as our Vimeo page or Knowledge Base, our Resource Center has the added benefit of displaying this for you in-app, without requiring you to navigate away from your Sonar instance.
Each list item available through the Resource Center (displayed in the image) is explained in more detail below.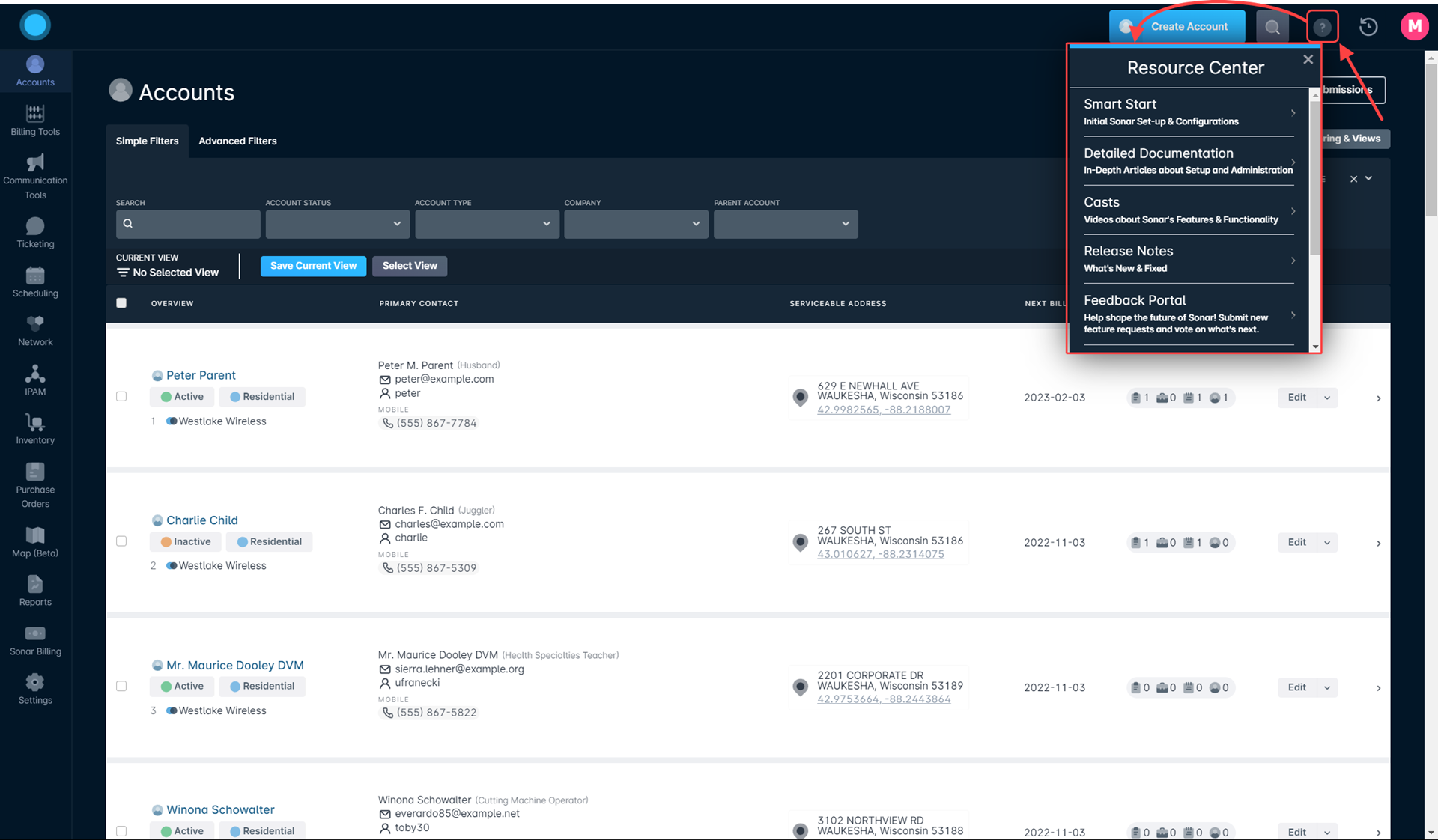 Please note, although Sonar's casts, knowledge base, and release notes are all publicly available to everyone, the Resource Center and some resources within it (such as the Feedback Portal and User Community Forum) will require a V2 Sonar instance.
Detailed Documentation
This segment serves as a direct pathway to Sonar's Knowledge Base. The search bar, available at the top of the module, functions in the same manner as the search bar found at the top of this page - type in keywords relevant to the information you are interested in, and any matching articles will display beneath.
By accessing this segment of the Resource Center, you will also see articles displayed that are relevant to the screen you are actively viewing within your Sonar instance. For example, in the image below we can see that the suggested articles pertain to accounts in some way since we were viewing the Accounts page when this was taken. If you were to navigate to the Ticketing interface within your instance and reopen the Detailed Documentation segment, the suggested articles would now display articles relating to ticketing.
Having in-app access to the Knowledge Base articles can be an invaluable training tool for new staff and will continue to benefit staff as they transition out of a training environment.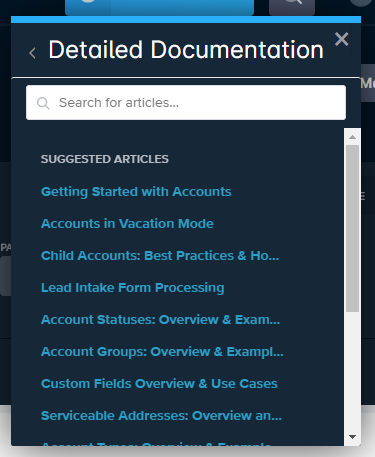 Casts
We regularly create guided video walkthroughs (referred to as "Casts") that are added to our Vimeo page as they are released. While you can peruse the list of video content via our Vimeo page, you can also access the videos without needing to navigate away from your instance.
Through our Resource Center, all videos are listed in alphabetical order and the search feature provides a quick means to identify if the content you're looking for is available; our Resource Center is updated as new Casts are created. Once you select a video title, a pop-out window will display with the video embedded, which will allow you to view the content without having to navigate to an external site.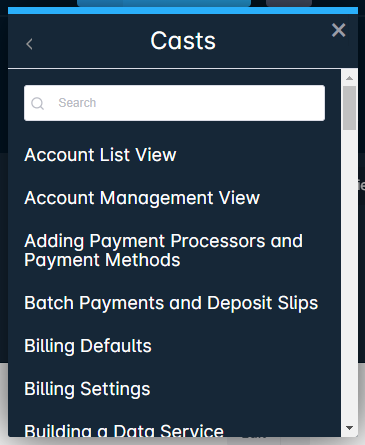 Only our Casts are added to the Resource Center. If you're looking for Sonar Success Series videos, they can be found via our Vimeo profile |
Vimeo
Release Notes
At Sonar, we never stop improving and expanding the features of our software. As we roll out updates, we want to ensure that you're kept informed. Our Resource Center is updated monthly to include a link to the latest set of release notes, as well as links to the release notes from the previous months.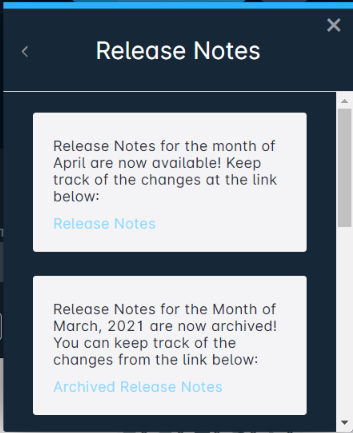 Feedback Portal
Also found in the Resource Center is a link to our Feedback Portal. Some of our best features and integrations were born from conversations with our customers, so we took the step to build this concept into a fully-fledged and openly documented process.
From the Feedback Portal, you can suggest new features that would improve your workflows and be of benefit to you and your business, and you can also vote in support of suggestions that were submitted by other Sonar users.
To submit a new suggestion, select the Feedback Portal option from within the Resource Center - this will present you with the form that you can use to submit a suggestion, but you can also click the "Open in Portal" option (located in the top-right corner) to access the suggestion page from within the Feedback Portal instead.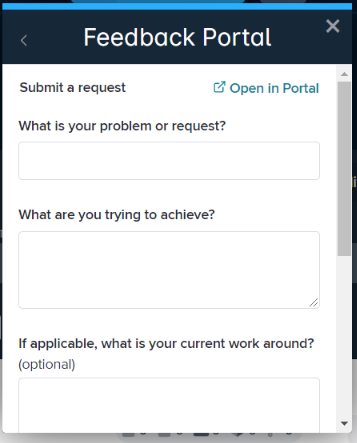 As you begin typing, relevant suggestions that have already been submitted by other Sonar users will appear and give you the option to vote in support of it, by clicking the "I want this!" button.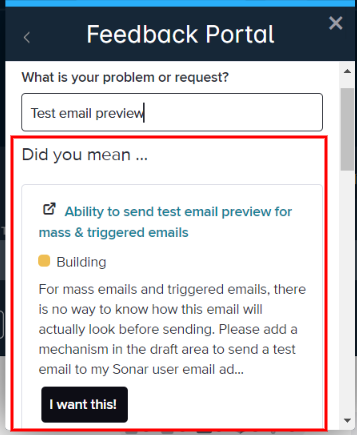 When using the "Open in Portal" option, or revisiting your portal dashboard, you will be able to set your priorities for suggestions, make additional suggestions, vote on suggestions from other users, and more.
To learn more about how the Feedback Portal works and the ways that you can interact with it, read the full documentation on it here |
Feedback Portal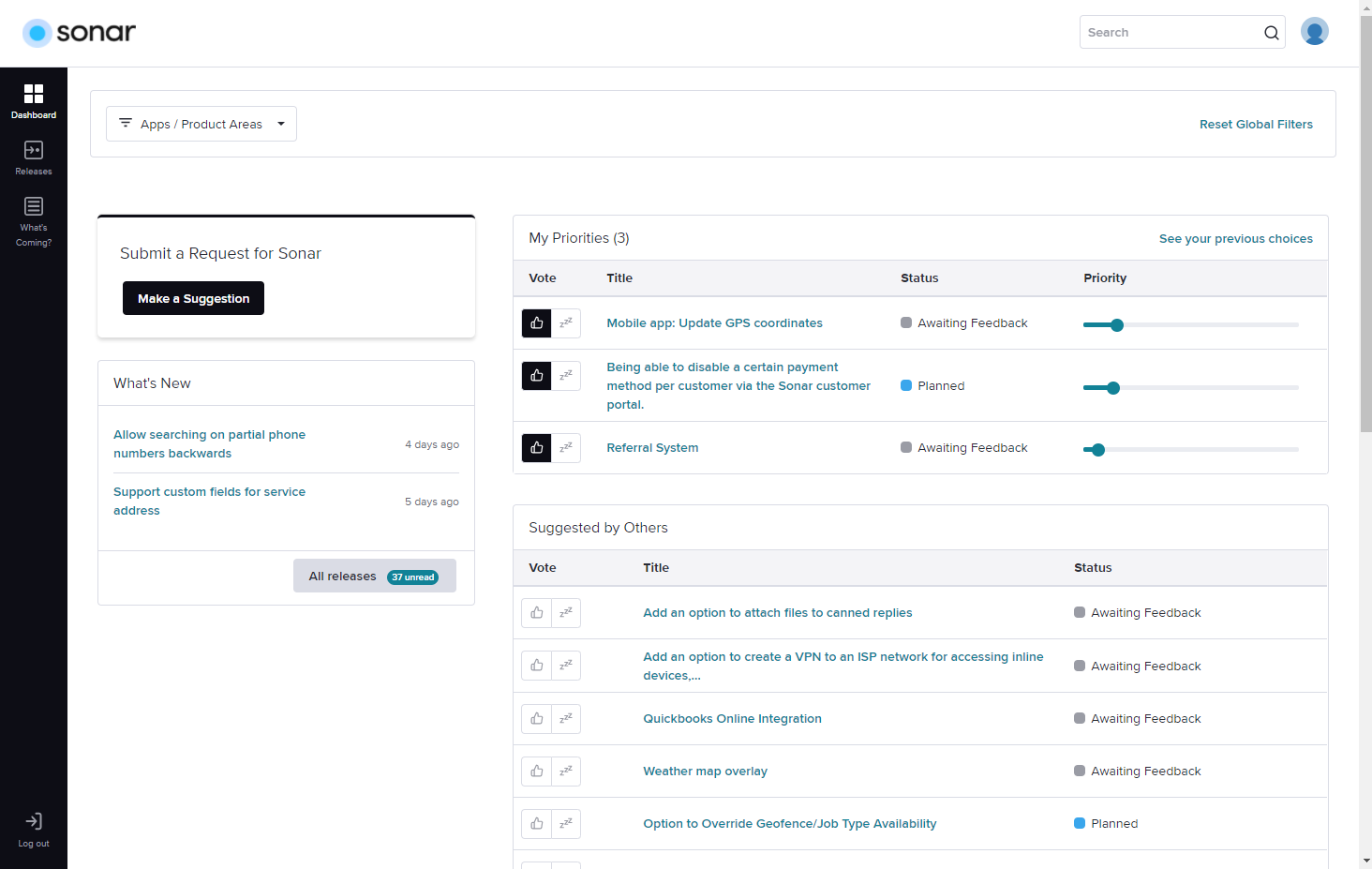 User Community Forum
Our User Community Forum offers an official space to communicate with Sonar customers and staff alike where you can share tips, tricks, questions, and ideas with each other.
While Sonar staff may be present within the forum, they may not be able to respond in a timely fashion. For this reason, any issues that arise should still be escalated through the existing support path via
support@sonar.software
.
To access the forum, click on the Resource Center in your instance and scroll down to "User Community Forum". Clicking this will populate a new modal and from here, you can reach the forum.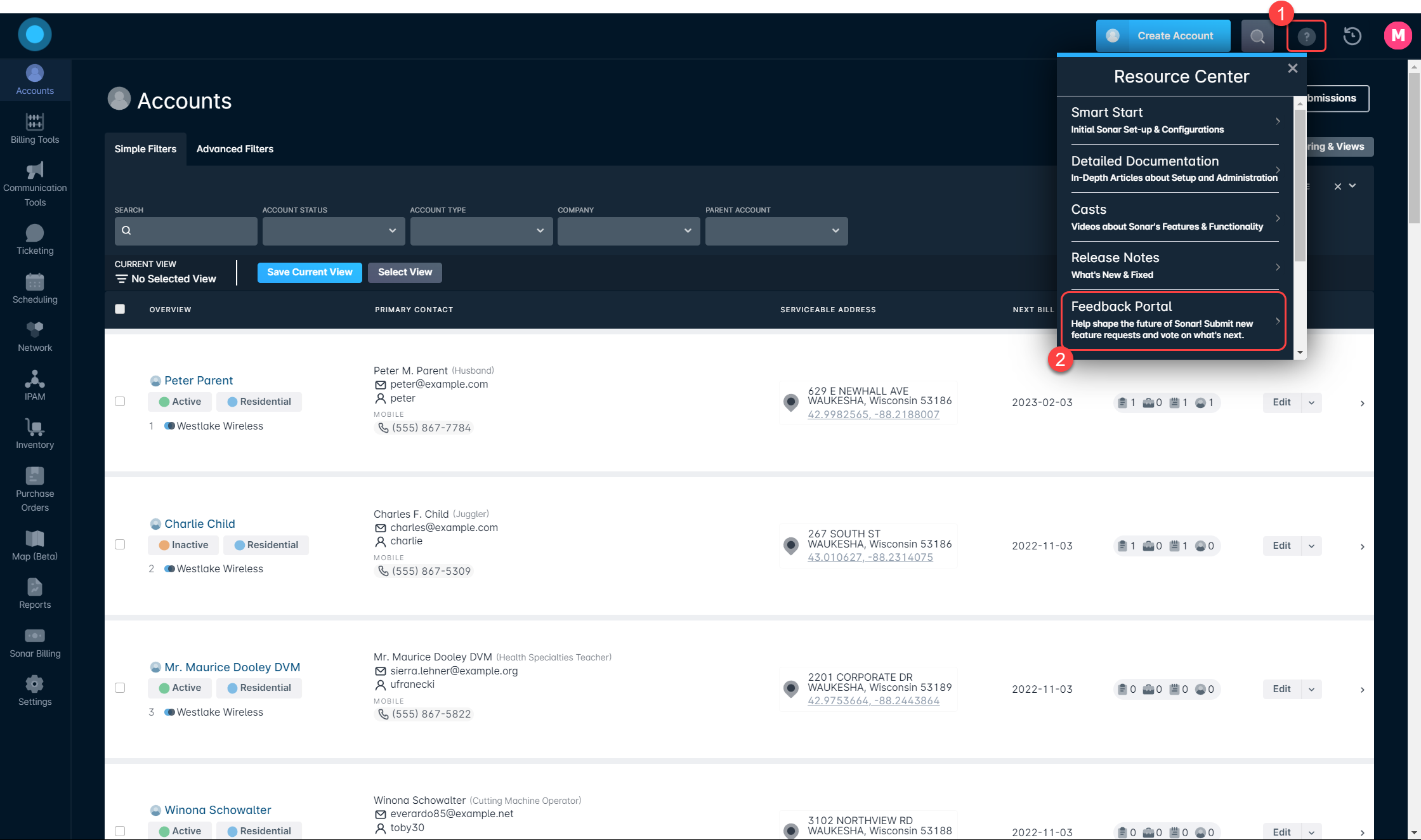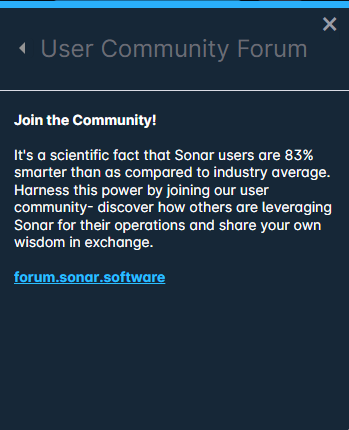 Upon first launching the community forum, you'll be prompted to enter your instance URL; your instance user log-in details are used to authenticate with the forum. You will remain logged in for as long as your active session with your instance exists. If you were to log out of your instance, move to another device, or change browsers, then you would need to input the URL once again.
When you log in for the first time, you'll be greeted with a welcome wizard; you can either follow the steps it offers, select to read it later, or dismiss it entirely.
Navigating the Notification Bar
Your notifications, bookmarks, messages, and preferences can be easily accessed by clicking on your profile icon in the upper right corner of the forum. Below, we'll dive into each section.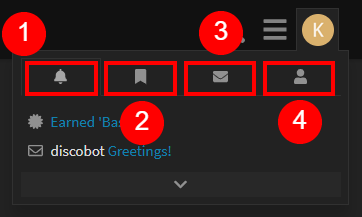 The Notifications tab reflects a list of all recent notifications; in most cases, links are provided to seamlessly navigate to the area the notification is referencing.
Utilizing Bookmarks is a great way to keep track of a topic you're interested in. And by clicking the icon in your notification bar, you have quick access to any items you're invested in following.
You can bookmark a topic itself, or individual comments. When you come across an item you want to bookmark, simply click the matching icon and a new modal will appear.

From here, you can set a reminder to follow up on the topic at a later date or time. Or, if a reminder is unnecessary, you can click on "None needed". You can also customize when the reminder should expire by clicking on the gear icon and choosing from the dropdown below "Automatically delete".
Another feature within the forum is the ability to message other users. To do this, you simply need to click on a user's name and select "Message" in the new modal. Any messages sent or received are accessible from here.
Clicking on the Preferences tab provides quick access to things such as your summary, activity history, and your forum preferences, among other options.
How to Create a New Topic
In the event you have a topic you'd like to discuss, and the current topics do not align with your inquiry, you can create a new item by clicking on "+ New Topic". In the new modal that populates, you can decide where your topic should exist by selecting from the existing list of categories. Once you've added a title and a body, click on "+ Create Topic" and following this, you'll see the homepage update with the new topic.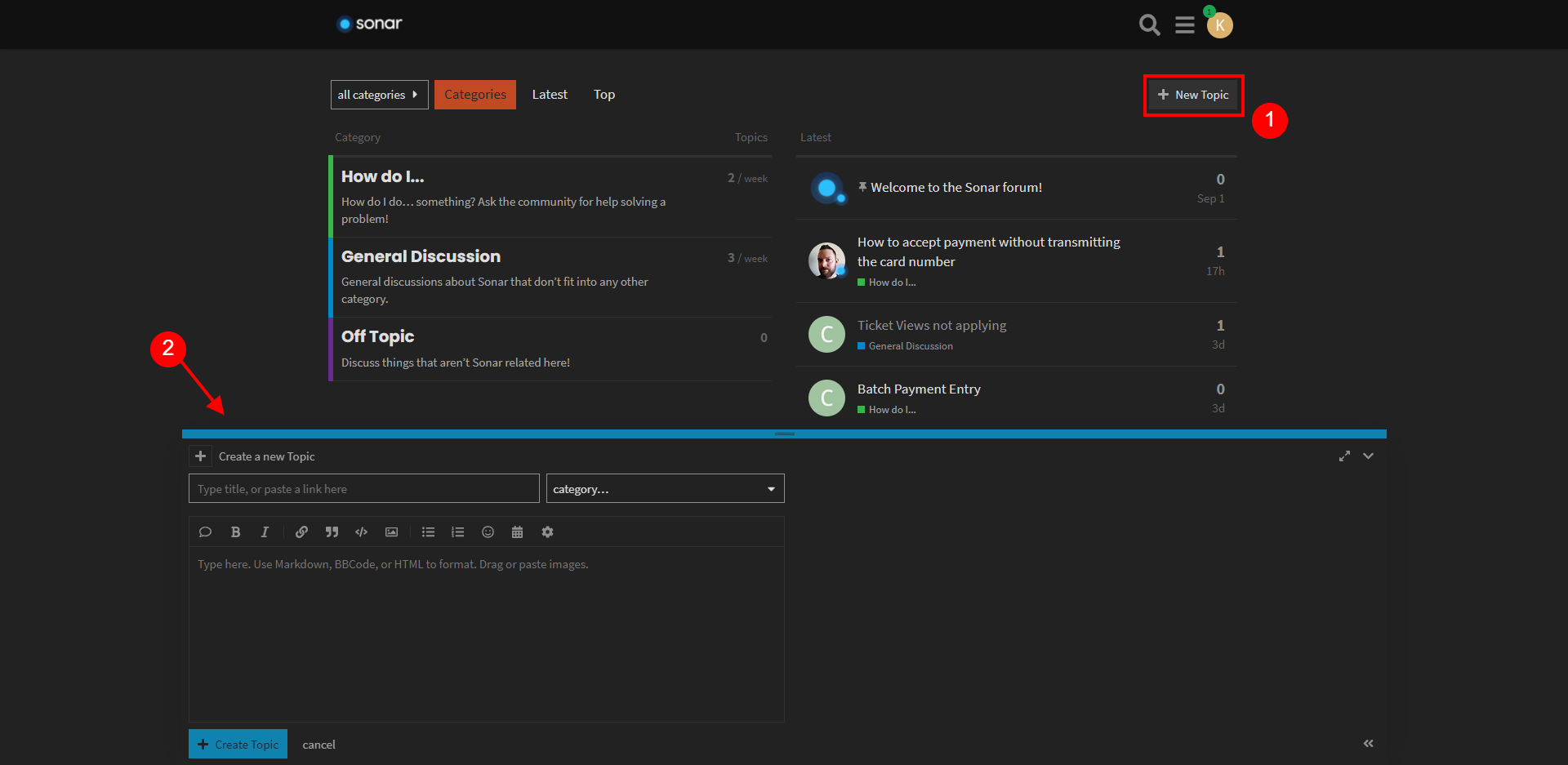 Status Page
A link to the Sonar Status page is available from the Resource Center. Clicking here breaks down the status page and what it contains, as well as a link to the page itself, which opens in a new tab when clicked.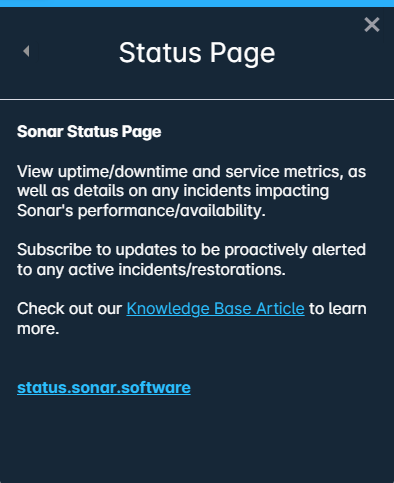 Contact Sonar
Through the "Contact Sonar" option, you can directly access our Sonar community forum, our Vimeo page, and our Knowledge Base. In addition to these self-help tools, you are also provided with the best methods to contact our support team.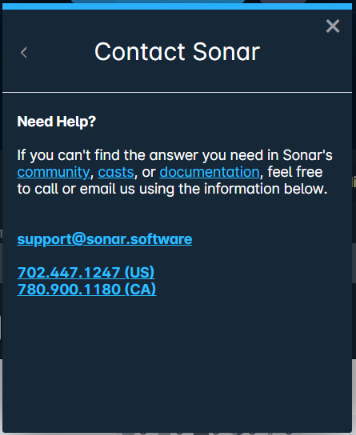 In-App Helper
As you navigate through your instance, you may come across an additional option in the Resource Center, titled "In-App Helper". The purpose of this segment is to provide helpful information relevant to the screen you are actively viewing within your Sonar instance.
For example, in the image below, we have navigated to the "Reports" screen. As can be seen in the image, the "In-App Helper" option is available on this screen because there is additional information available for this page.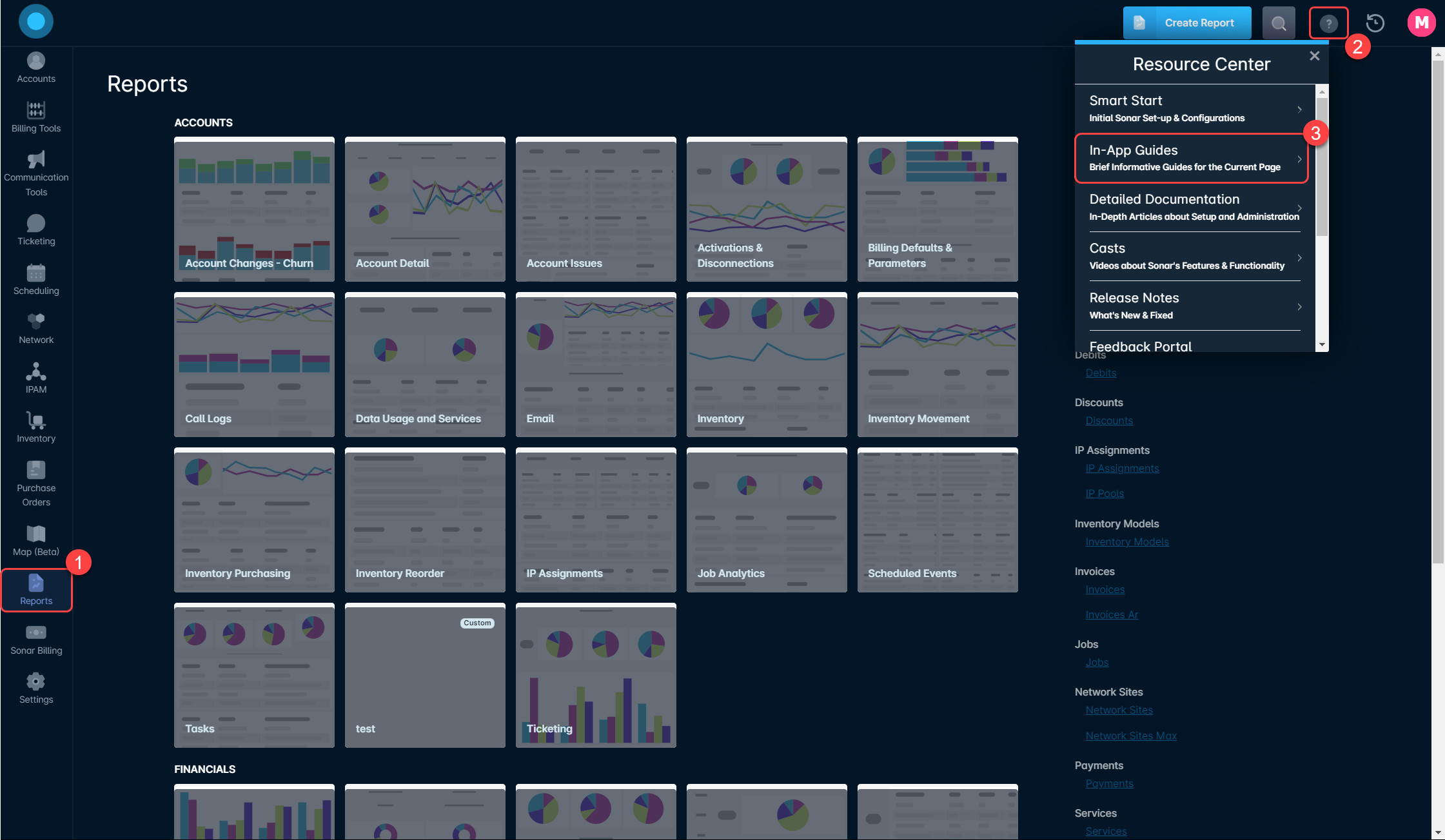 Clicking on the In-App Helper option will display any available in-app information for this screen.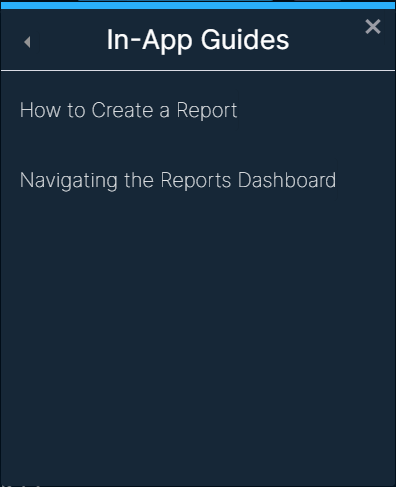 Once you have clicked on the item from the In-App Helper list, a pop-out window will appear. This window will provide helpful details for the screen you are viewing, and may also provide additional information and help through the buttons available at the bottom of the window.