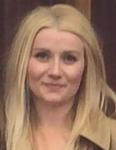 Updated by Morgan Wynnes
Triggered emails allow you to configure customized emails that can be sent out automatically to customers based on the occurrence of specific events. For example, you can have an email automatically sent to customers once they reach a certain percentage of their data usage each month, or when a credit card on the customer's account is about to expire. Below you will find an overview of how to set up triggered emails, as well as an example use case of where these can be utilized.
How To Configure A Triggered Email
First, navigate to "Triggered Emails" under the "Communication" header from the Settings menu; you will be brought to the Triggered Emails screen as can be seen below. By default, there will be 2 triggered emails already listed here:
New User Created
User Forgot Password
These emails are fundamental to the system working therefore they cannot be edited or deleted, as indicated by the 'Yes' under the Protected column.

Click "Create" (as seen in the image above) to create a new triggered email. Doing so will result in a 'Create Triggered Email' window being displayed.

By default, the Enabled checkbox will be selected and the Email Categories will be set as 'General'
The following fields will need to be configured within the Create Triggered Email window:
Enabled: This checkbox determines whether the triggered email is active and currently sending out to customers, or if it is disabled and therefore not being used.
Name: This is used for the name of the triggered email itself and is a required field.
Trigger: Here is where you would select the event that would trigger the email to be sent out, from a predefined dropdown list of available triggers. This is also a required field.
Email Message: This required field is where you would define the content of the email - any email messages that you have created will be available to select here from the dropdown list. These email messages can contain conditional statements as well as variables. The available variables that can be used in an email message will change depending on the email trigger being used, but they are used as a placeholder for data; when the email is sent out, the variables will populate with the appropriate values. For example, the variable *|CONTACT_NAME|*​​ will populate with the name of the contact when the email is actually sent out.
Email Categories: This is where you can select which category(ies) the triggered email should fall under, if any. Email categories are used to determine the type(s) of emails that a contact should receive, and can be defined for each contact listed on an account.
Once you have successfully created your new email, it will appear in the list of available triggered emails. If enabled, it will also automatically send out whenever the trigger conditions are met going forward.

From here, you can see at a glance whether or not a particular triggered email is currently enabled, what email categories it falls under, and you can also edit or delete the email from the "Edit" menu on the right. The email message used in the triggered email can also be seen under the "Email Message" column - clicking the name of the email message will open a sidebar window that contains a few details of that particular email message as well as the activity history for it.
Example Use Case
When A Late Fee Is Applied To An Account
For this example, we want to set up a triggered email to go out to customers when a late fee has been applied to their account. Having an email automatically sent out once a late fee has been added will help to make customers aware that they have an outstanding amount due on their account, and will also help to avoid surprises of an additional charge when they do go to make a payment.
Before we can create the new triggered email, we will first need to create the email message that it will use. We have created the 'Late Fee Applied' email message by clicking "Create" from the Email Messages screen and filling out the required information. Now, we need to add content to the email message and can do so by clicking "Create Email Message Content" as seen below.

We have selected the appropriate trigger for the email from the dropdown list and filled out the required fields. The body of our email has been set up to include variables to pull account-specific information for our customers and also includes some conditional content.
Since we have our customer portal enabled, we want to encourage customers to pay through the portal if they have their customer portal account set up; however, if they do not have the account set up, then we don't want to be including information that is unnecessary to them. Through using a conditional statement, we are able to accommodate both situations - with the email content below, we are able to provide customers that have their portal accounts set up the URL to access the customer portal and language instructing them to pay through it. For customers who do not have it set up, that section of information will not be seen.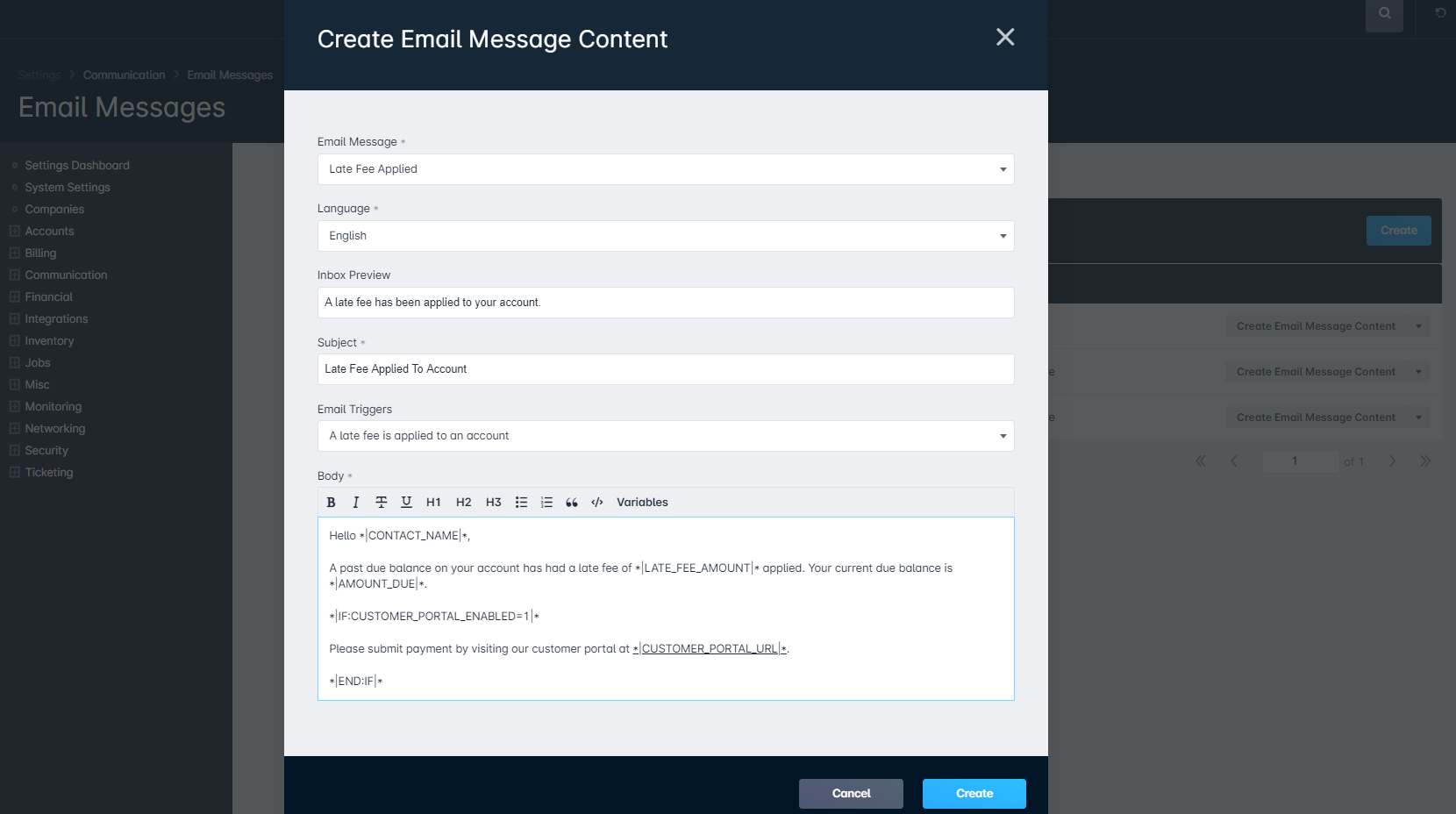 Since we have our email message set up in a way that meets our needs, we click "Create" and now have it available to select when configuring our triggered email.
Now that we have navigated to the Triggered Emails screen, we can click "Create" to set up our triggered email. After we give our email an appropriate name, we select the desired trigger for which we want this email to be automatically sent out, along with the email message that we just created. We choose the Financial email category to ensure that any contacts set up for emails related to finances will receive this. Lastly, we check the "Enabled" box because we want this email to begin automatically sending out to customers as soon as we have it configured.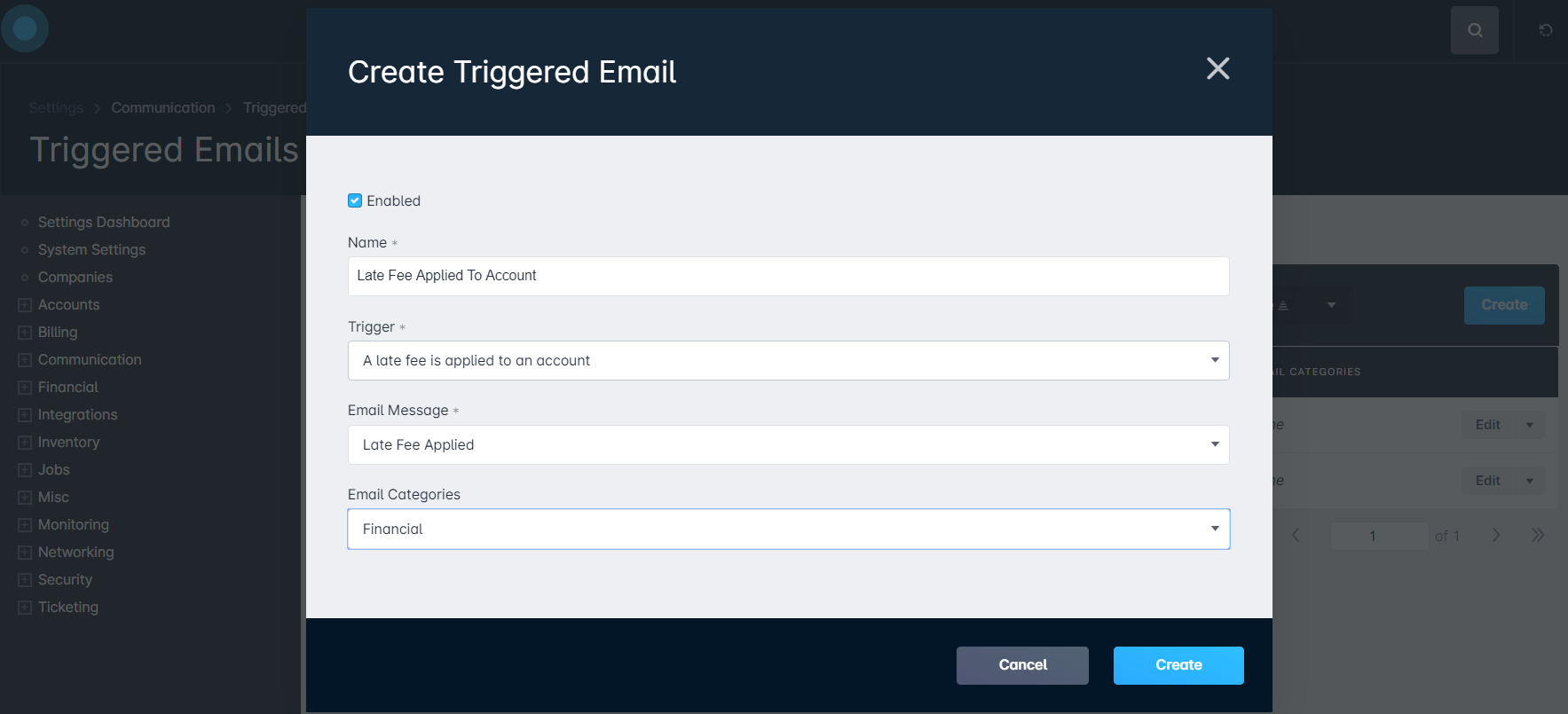 Now we can rest assured that our customers will be receiving email notice when a late fee is applied to their account, without having to manually track that information or send out emails ourselves. And in the future, if we decide that this triggered email is no longer needed or we want to temporarily disable it, we can do so by editing the triggered email and deselecting the "Enabled" checkbox.